'Ghostbusters 3:' Ivan Reitman No Longer Directing, Will Film Late 2014/Early 2015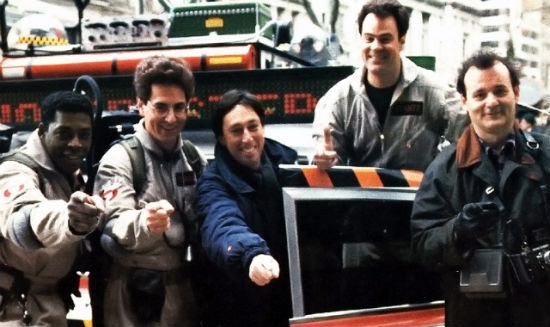 Ghostbusters 3 is as close to filming as ever, but it just lost a very important piece of the puzzle. Speaking exclusively to Deadline, Ivan Reitman revealed he will no longer direct the project, instead stepping into a producer role. Reitman directed of the first two installments in the blockbuster franchise and revealed the tragic passing of star Harold Ramis cast the film in a new light for him. Now, despite his departure, filming will start by early 2015 at the latest.
He, along with Sony Pictures, will now begin the search for a new director based on a select list of candidates. Read some of Reitman's quotes below.
Deadline has an extensive interview with Reitman, in which he discussed a huge list of topics surrounding the long-rumored project. Bill Murray, of course, being a primary subject.
The first [script] was done by Lee Eisenberg and Gene Stupnitsky, and me, Harold [Ramis] and Dan [Aykroyd] helped them on it. It was a really good script, but then it became clear that Bill really didn't want to do another Ghostbusters and that it was literally impossible to find him to speak to for the year or two we tried to get it going. When Bill finally...well, he never actually said no, but he never said yes, so there was no way to make that film. We decided to start over again, and I started working with Etan Cohen, with Dan lending a helping hand. Harold got sick about three years ago, and we kept hoping he would get better. I kept pushing forward on the Etan Cohen and we now have a draft that is very good, that the studio is very excited about.
That version includes the originals in "very minor roles" according to Reitman, which is inline with the news from as recent as a few weeks back.
Reitman's decision to only produce the film was news to Sony Pictures' Amy Pascal, but she stood behind the decision:
We totally understood. He was thinking he might feel that way when Harold died, and then came back to us and confirmed it, that while he was excited to return and make the movie as producer, but did not feel he wanted to direct the movie. We are delighted to work with Ivan on this movie in that capacity. We love him, and he's going to continue to play an important role. We're very anxious to get the movie started.
Reitman also said this on the logistics of the film:
I'm not going to say how many Ghostbusters there will be in the new cast, but we are determined to retain the spirit of the original film, and I am pleased that all of this seems to have happened organically. I'm hoping we can get started by the fall, set in New York, but given the logistics and the stuff that happens, the beginning of 2015 seems more likely.
Head to Deadline to read the rest of his emotional and revealing interview. And then let the Ghostbusters 3 director wish lists begin.