Carrie Fisher Will Be In London For 6 Months Making 'Star Wars Episode VII'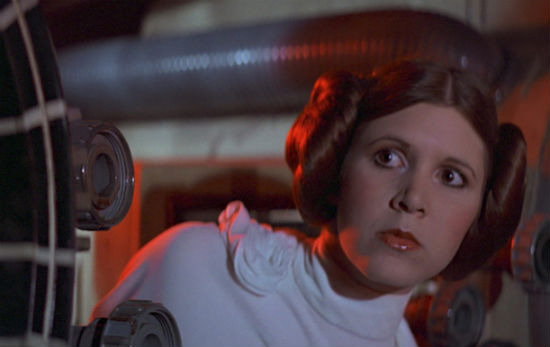 Disney and Lucasfilm have still not announced who'll be starring in J.J. Abrams' Star Wars Episode VII, but information continues to creep out there. Besides the Adam Driver business, one member of the original cast who has no problem saying she's returning for Star Wars 7 is Carrie Fisher. Time and time again Fisher has let it slip she's planning on returning for the film and now she's done it again.
Fisher will be appearing on an upcoming episode of the FXX show Legit and that show's star, Jim Jefferies, told Sirius XM's Opie and Anthony Show Fisher will be in London for six months later this year shooting the film. Read the full quote below.
Jefferies, a hilarious comedian, was promoting his show on O&A and mentioned Fisher would be appearing on the new season of the show:
She's a funny lady, man. She'll be smoking cigarettes outside and as soon as she gets inside, she's straight on to the vapor. She's had some fucking hard partying in her life, I tell ya....She said to me, she goes 'I'm going off to London for six months to film the new Star Wars movie,' right? And I don't think from looking at it, the new Star Wars movie is a direct continuation. It's number 7 but it's not going to be the next day, I'll tell you that much. Maybe she had the same problem the Emperor had, I don't know.
O&A laughed at the funny insinuation Fisher has changed quite a bit since the last film and suggested maybe she has a cameo, but Jefferies reiterated "She's there for six months!"
They then went onto talk about Harrison Ford and how he may or may not also like to smoke himself. You can listen to the full show here.
All joking aside, it's just more confirmation the original actors will be back for the film. Hopefully, Disney and Lucasfilm will tell us more sooner.