'Drive Hard' Trailer: John Cusack Makes Thomas Jane His Getaway Driver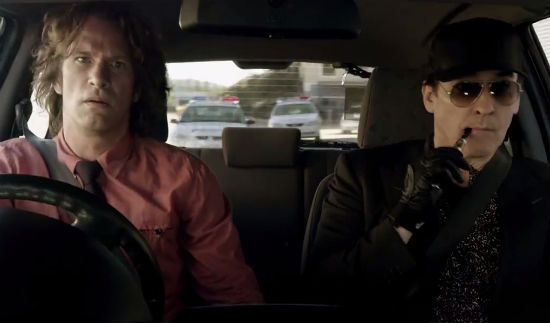 A former racing champion turned driving instructor is forced into being a getaway driver in Drive Hard, the latest film from the director of Leprechaun 4: In Space. But before you back away slowly from this post while laughing madly, know that the race-car driver is played by Thomas Jane and the bank robber is played by John Cusack.
Directed by cult filmmaker Brian Trenchard-Smith, Voltage Pictures will release Drive Hard later this year and a trailer has now come online. Check it out below.
Thanks to The Playlist for the heads up.
If you're like me, you're a little dumbfounded by that trailer. The casting of Cusack and Jane should suggest it's a good movie, but neither has exhibited the best choices over the past few years. (Consider I, Frankenstein and The Raven, etc.) Trenchard-Smith's filmography doesn't inspire a ton of confidence, but his films can be entertaining and he does have a bit of a following (BMX Bandits forever). This could go either way. I tend to think Cusack and Jane still have some goodwill built up from over the years, the high-concept idea of the film plus a penchant for loving car movies makes me say, ultimately, I'm interested. What do you think?
Here's the official plot description of Drive Hard:
American thief, Simon Keller (Cusack), arrives in a foreign country in need of a getaway driver. Rather than recruit one from the underworld, he takes a driving lesson from ex F-1 champion, Peter Roberts (Jane), now working as a driving instructor. After Keller robs a bank during the lesson, Roberts has no choice, but to use his driving talent to get away from pursuing police and mobsters.