'300: Rise Of An Empire' Trailer: The Ecstasy Of Steel And Flesh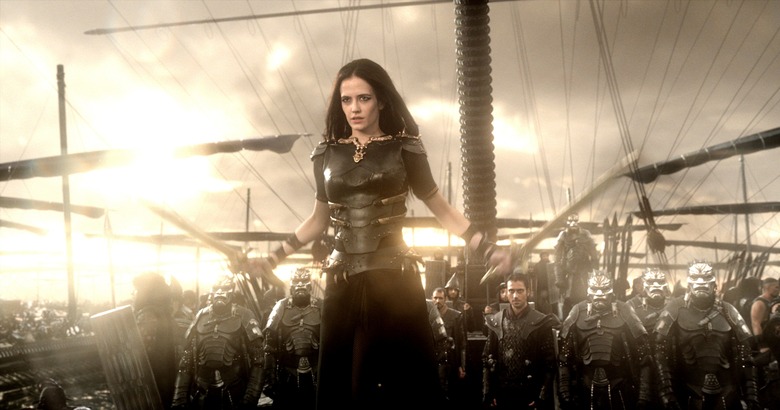 Early in the latest trailer for 300: Rise of an Empire, Eva Green's Artemisia hisses something about "the ecstasy of steel, flesh, sweat and muscle, rage... war." The context of the line isn't quite clear, but from here it seems to work just fine as a mission statement for the film as a whole. Like the original 300, Rise of an Empire seems to be all about the glory of the battlefield.
Set concurrently, more or less, with the events of 300, the follow-up stars Sullivan Stapleton as a general who wants to unite Greece against the invading Persian forces led by Artemisia and Xerxes the god-king (Rodrigo Santoro). The fights are set at sea this time around, and King Leonidas appears only as a corpse, but otherwise 300: Rise of an Empire seems to deliver more of the same for fans of the first. Watch the newest trailer after the jump.
Noam Murro (Smart People) replaced Zack Snyder as director for this round, but it's tough to tell from the trailer. Snyder produced and co-wrote the film, and Murro apes his visual style closely enough that at first glance, these look like outtakes from the original 300.
Whether that's a good thing or a bad thing probably depends on whether you liked 300 enough to want a sequel. If you did, 300: Rise of an Empire should give you enough shouting, speed-ramping, and super-stylized sword-fighting to satisfy your itch. If not, you probably weren't the target audience for this film to begin with.
300: Rise of an Empire opens March 7.
Based on Frank Miller's latest graphic novel Xerxes and told in the breathtaking visual style of the blockbuster "300," this new chapter of the epic saga takes the action to a fresh battlefield—on the sea—as Greek general Themistokles (Sullivan Stapleton) attempts to unite all of Greece by leading the charge that will change the course of the war. "300: Rise of an Empire" pits Themistokles against the massive invading Persian forces led by mortal-turned-god Xerxes (Rodrigo Santoro), and Artemisia (Eva Green), vengeful commander of the Persian navy.