Marvel On TV: Lady Sif Coming To 'S.H.I.E.L.D.', 'Agent Carter' Gets Writers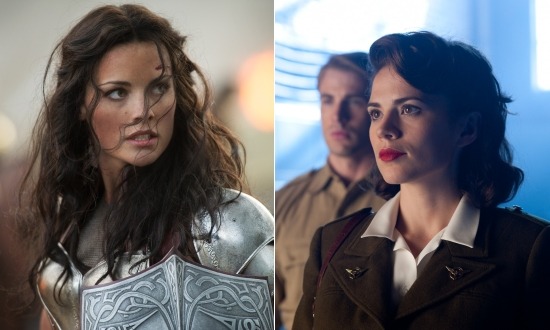 S.H.I.E.L.D. is getting a visit from a big-screen superhero for the very first time. Marvel announced at ABC's TCA winter press tour that Lady Sif (Jaimie Alexander), Thor's warrior buddy from both of his standalone films, will be making an appearance on Marvel's Agents of S.H.I.E.L.D. in the near future.
This won't be the TV show's first run-in with Asgard. The season's eighth episode, titled "The Well," was timed to coincide (roughly) with the release of Thor: The Dark World, and centered on the aftermath of events seen in the film. It happens that Alexander's guest spot also doubles as Thor: The Dark World promotion — the DVD/Blu-ray hits shelves February 25.
Plot specifics are being kept under wraps for now, of course. Marvel would say only that Sif would drop down to Earth from Asgard "with a very specific mission." Lady Sif's visit is being shot right now, and will air as the 15th episode of the season. [Screen Crush]
After the jump, Marvel's new TV project Agent Carter picks up a couple of writers.
The pair will write and executive produce, serving as co-showrunners. Additionally, ABC confirmed that Atwell will indeed be back to reprise her role in the series. It will not surprise you to hear that the plot of Agent Carter is shrouded in secrecy at the moment.
Butters and Fazekas are co-creators of The CW sitcom Reaper, and have also worked together on Law & Order: Special Victims Unit, Dollhouse, Terra Nova, Hawaii Five-0, and the upcoming ABC series Resurrection. [Screen Crush]