'Dom Hemingway' Trailer: Jude Law's Brit Gangster Movie Takes A Turn For The Sappy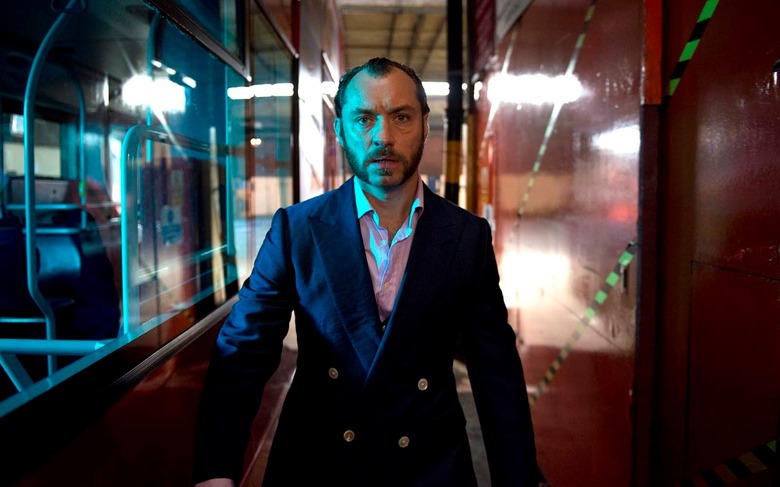 It's been fun to see Jude Law drink swear, f***, and punch his way through earlier trailers for Dom Hemingway. The handsome British actor plays a safecracker who's just completed a twelve-year stint in prison, and seems determined to make up for lost time by partying his way to an early grave.
But if there's one thing the movies love more than a bad boy, it's a bad boy on his way to redemption. So the latest promo downplays his wild antics just a tad in favor of highlighting some more emotional material involving his estranged daughter (Emilia Clarke). Misfits' Nathan Stewart-Jarrett makes an appearance, as does Clarke's lovely singing voice. Watch it after the jump.
While this isn't a bad trailer, it feels jarringly different from the ones that came before it. Apparently, this sudden shift is a problem in the actual movie as well. When it opened in the U.K. last year, several critics complained that Dom Hemingway turns into a completely different film in its second half.
But at least both halves look worthwhile. The first part of the story seems like a raucous good time, and the redemption story looks sweet, if a bit predictable. Tying the whole thing together is Law's performance, which seems to be one of his best; I'm not sure we've ever seen him so bold and energetic.
Directed by Richard Shepard, Dom Hemingway hits American theaters on April 4. Richard E. Grant, Kerry Condon, and Demián Bichir also star.
Jude Law plays DOM HEMINGWAY, a larger-than-life safecracker with a loose fuse who is funny, profane, and dangerous. After twelve years in prison, he sets off with his partner in crime Dickie (Richard E. Grant) looking to collect what he's owed for keeping his mouth shut and protecting his boss Mr. Fontaine (Demian Birchir). After a near death experience, Dom tries to re-connect with his estranged daughter (Emilia Clarke), but is soon drawn back into the only world he knows, looking to settle the ultimate debt.