Final Draft 9 Review: An Improvement But Still Stuck In The 90s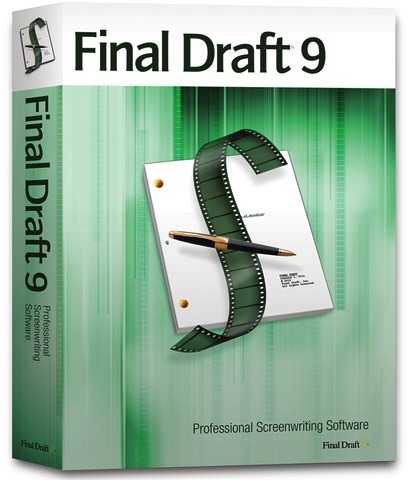 Note from Editor Peter Sciretta: While I was once an aspiring screenwriter, its been many years since I've stared at that blank white page with the cursor blinking next to "FADE IN:". So when Final Draft offered us the chance to review their latest software release, I asked my friend Zach Lipovsky if he would be interested putting it through a couple laps. Lipovsky is a Canadian-born writer/filmmaker who came to Hollywood as a contestant on the Spielberg-produced reality series On The Lot, and has since directed two films (Tasmanian Devils and the upcoming reboot Leprechaun: Origins) and produced Afflicted, a found footage hit at TIFF and Fantastic Fest, set to be released by CBS films. Zach also developed the popular movie/tv production iOS app Shot Lister, which makes him the perfect candidate for this software review.
Final Draft has the infamous title of being the industry's standard screenwriting app. It has always suffered the burden of being the first to market, and slowest to adapt. Final Draft 9 has recently been released and I spent the last week playing with its new features.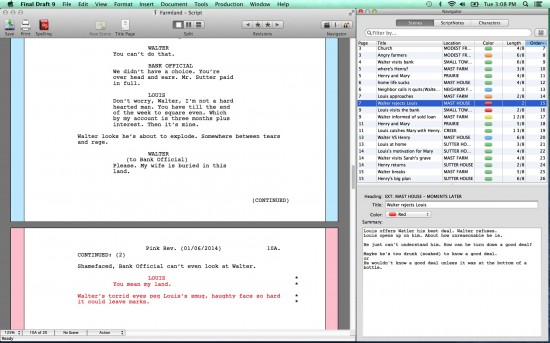 THE NEW NAVIGATOR
As with most software of a certain vintage, updates can turn an interface into a cluttered mess of new features piled on top of old ones. Finally in FD9, a redesigned and improved navigator creates a mostly useful and pleasant experience. Now the navigator contains three tabs: Scene, ScriptNotes, and Characters.
The Scene tab cleanly displays all your scenes in an efficient list on the top, and the current scene's details on the bottom. Most of these features are in FD8, but they're now presented in a much more useful way. You can now also easily filter the list to quickly find a specific scene.
The ScriptNotes tab greatly improves this previously terrible feature from FD8. Like the Scene tab, I never used ScriptNotes before, but in FD9 its quite easy to add notes to your script. A color-coded flag appears on the page when you've added a note, or you can add general notes that aren't page-specific. You can also create your own categories of notes, such as "Dialogue" or "Action." The tab displays all the notes in a list so you can quickly navigate to them and cross them off.
I don't think this feature is built to be used in collaboration with others, as you would need to send your master FDX file back and forth, but it did work quite well for tracking my own thoughts while I wrote.
The Character tab is a new feature that lists all the scenes with a specific character. It auto-detects each scene based on dialogue, but you can also manually add characters to non speaking scenes. This window is very customizable and allows you to track individual character arcs on a scene by scene basis. I did find this tab useful for quickly hopping through the script to track how one character evolves.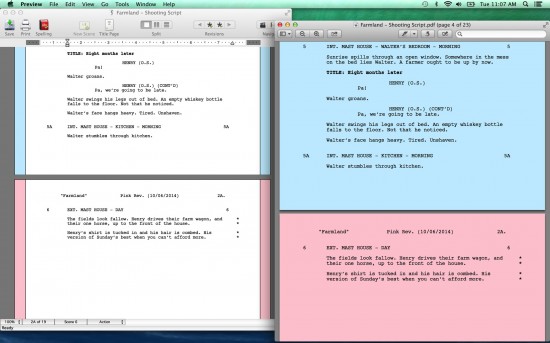 NEW EXPORTING FEATURES
Final Draft has always had quite a good array of options for exporting and two additions are welcome new choices.
In an effort to reduce paper, you can now export a PDF with the revision colour as the page background colour. So the PDF looks just like it would if printed on colored paper. This is a great feature that helps out tablet users quite a bit.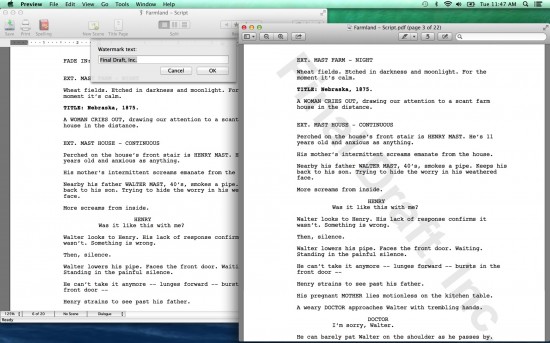 You can also now export a PDF with a watermark. This is helpful, but sort of crippled by the fact you can only export one watermark at a time. If you need to export several scripts with different watermarks, you're much better off using Bronson Watermarker: http://quoteunquoteapps.com/
bronson/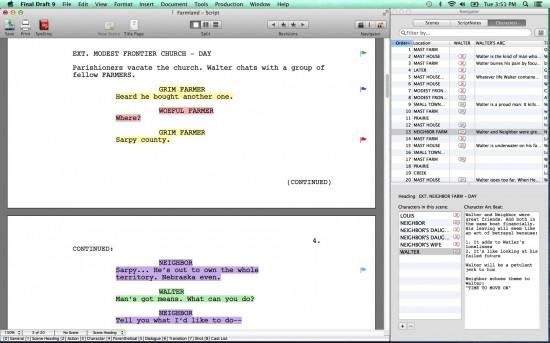 NEW MINOR FEATURES
A few other things have been thrown in, like the ability to highlight each character with a different colour. I'm not sure how useful that is, but some may find it helps augment a scan through their work.
There is a thesaurus inside the right-click drop-down menu. This gives you pretty quick access to a thesaurus but the results were very limited. Thesaurus.com is still a much better resource.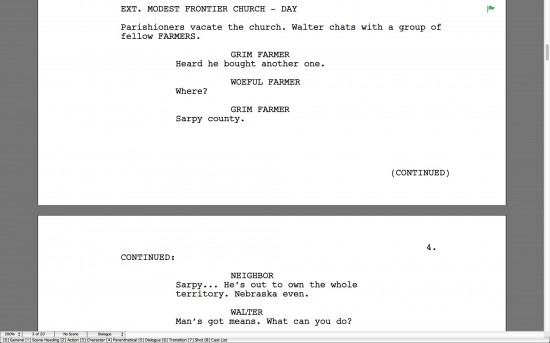 MAC ENHANCEMENTS
If you're running FD9 on your Mac you will enjoy both Retina display support and full screen mode. Both are great additions, but there is one pretty dumbfounding design choice: if full screen mode and the Navigator are used at the same time, the navigator floats over your center-justified script, making it very annoying to use.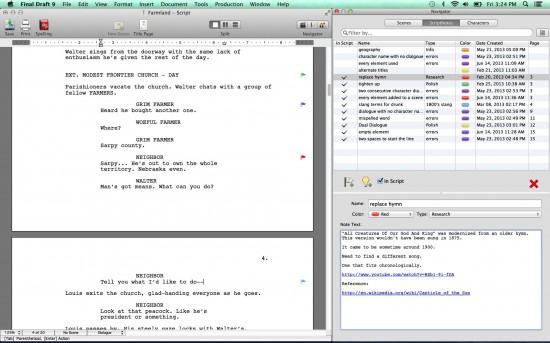 THE GOOD
Overall this is better than FD8. I did find the new Navigator to be a vast improvement, and would actually describe the ScriptNotes feature as useful for the first time. After using the software every day for a week I only had one crash, so its pretty stable.
While I was nervous that FD9 uses a new version of the .FDX format, it did perfectly import my FD8 script during mid-revisions. I was also happy to discover it is backwards compatible to FD8, minus the new features. I tried it, it works.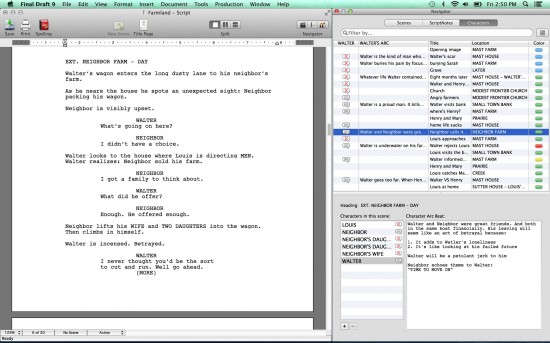 THE BAD
Final Draft is stuck in the 90s. The UI still looks like something out of the Sandra Bullock movie The Net. Although, come to think of it, FD9 completely ignores that there is this new thing called "the internet." There are no groundbreaking features that adapt to the online world. No cloud features, no useful online collaboration, no syncing with your mobile device. As a industry leader, Final Draft should be leading the way, not playing catch up to a long list of competitors.
THE UGLY
So should you buy it? For a price tag of $199 new / $79 upgrade, FD9 only moderately improves on its predecessor.
If you're simply writing a script don't shell out the all that cash when there are plenty of other apps which are a fraction of the cost, or free. Go check out Adobe Story (Free), Celtx (Free), or Fade In ($49.95).
Final Draft still tracks script revisions better then most and the new features improve on that. If you're in production and need to track revisions then FD9 will be more useful to you than to a writer just working on a single script without the need to note revisions.

THE SPECS
You can download a free 30 day trial of FD9, for both OSX 10.7+ or Windows XP or later, from the Final Draft site. You can purchase a new copy for $199, or upgrade for $79.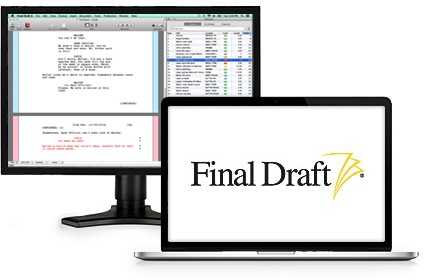 Mac System Requirements:
Mac OS X 10.9, 10.8, or 10.7
Minimum 2 GB of RAM
60 MB available hard drive space
Internet connection required during installation
Windows System Requirements:
Microsoft® Windows 8, Windows 7, Windows Vista™, or Windows XP (32 and 64 bit versions)
Minimum 512 MB of RAM
60 MB available hard drive space
Internet connection required during installation