'Girls' Renewed For Season 4; Watch A New Clip From The Season 3 Premiere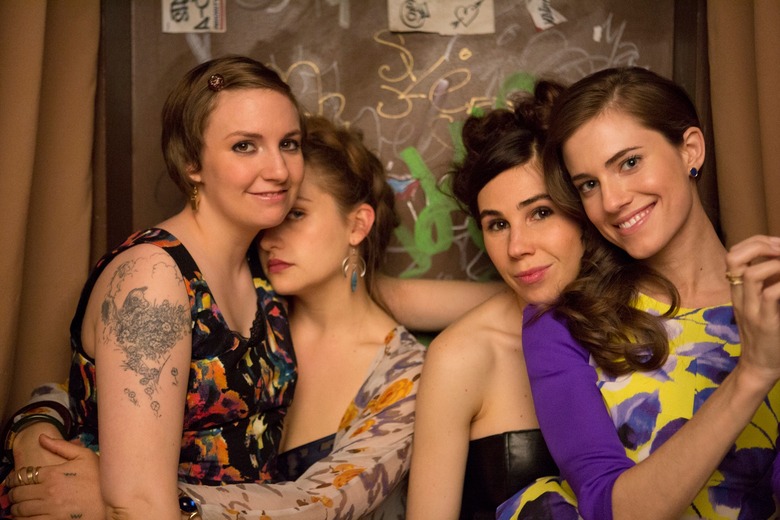 Hannah Hovarth may be kind of a screwup, but the show around her certainly isn't. HBO confirmed today that it has renewed Girls for a fourth season, three days before the start of its third season. That's an even faster renewal than it got last year, when HBO announced Season 3 two episodes into Season 2.
Season 4 will shoot this spring, to air sometime in 2015. There's no official word yet on how many episodes it'll consist of, but we're guessing it'll have 12 like Season 3 did. (Seasons 1 and 2 were ten episodes each.)
In the meantime, Season 3 should have plenty to keep us busy. A just-released clip from the Season 3 premiere, "Females Only," offers a taste of where the main characters are at this point in their lives. Check it out after the jump.
[via Screen Crush]
So, to recap: Adam (Adam Driver) is playing the dutiful boyfriend, not entirely successfully; Shoshanna (Zosia Mamet) is eagerly exploring her sexuality; Marnie (Allison Williams) is mourning over Charlie; and Hannah (Lena Dunham)... is same old Hannah, basically.
The scene does not reveal what happened to Jessa (Jemima Kirke), who abruptly vanished toward the end of the last season. We know she's alive and well, since she's cropped up in other trailers for the show, but what she's been doing during that time remains a mystery. Nor does it feature fan favorites Ray (Alex Karpovsky) or Elijah (Andrew Rannells), alas.
In addition to all of the returning characters, the new run of episodes will feature several new guest stars including Danielle Brooks (Orange Is the New Black), Michael Zegen (Boardwalk Empire), Gaby Hoffman (Crystal Fairy), and Jessica Williams (The Daily Show). One who won't be coming, however, is Charlie, as Christopher Abbott has left the series over "creative differences."
Those who found Season 2 too bleak may be happy to see that this season still looks a bit more upbeat than the last one did, though drama is sure to follow these women wherever they go. Girls returns to HBO this Sunday, January 12.