'A Promise' Trailer: Rebecca Hall Is Torn Between Severus Snape And Robb Stark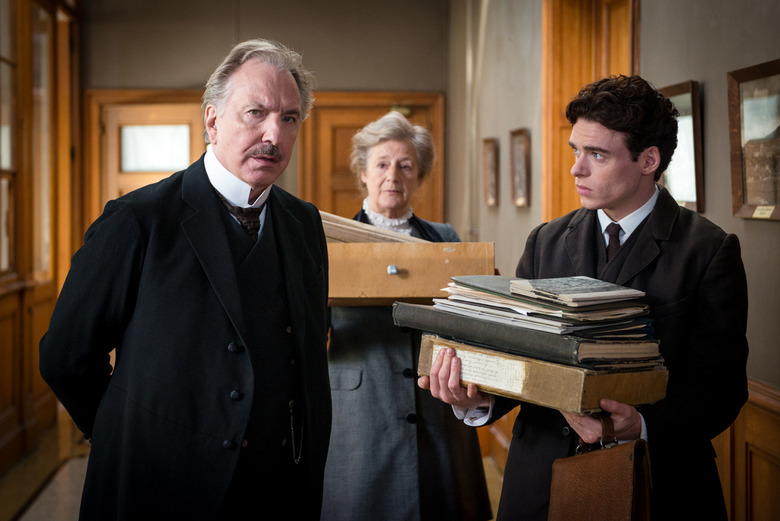 It's not unheard of for fantasy geeks to debate the merits of Diagon Alley versus King's Landing, Hermione Granger versus Daenerys Targaryen. But French filmmaker Patrice Leconte may be the first to wonder whether Severus Snape or Robb Stark would emerge triumphant in a battle for the heart of Iron Man 3 star Rebecca Hall.
Okay, so that probably wasn't really Leconte's aim in making the pre-WWI romance A Promise. But it's more fun if you imagine it was. Alan Rickman plays a successful factory owner, whose health problems force him to increasingly rely on his assistant (Richard Madden). Meanwhile, said protege is falling for the older man's wife, played by Hall. Watch the first trailer after the jump.
The trailer isn't great, and reviews from the film's Venice premiere weren't more promising (pun not intended). THR complained about "a stunning absence of chemistry" between the actors and found the film as a whole to be "a limp misfire." Variety seemed to concur, writing that it was an "awkward, passionless drama." The Playlist may have been harshest of all, comparing A Promise unfavorably to the works of Nicholas Sparks and giving it a D+.
There were a few defenders, however, including The New York Times, who remarked that the film was "artfully directed and subtly acted," and the London Evening Standard, who noted, "If it is  an old-fashioned film, it is none the worse for that."
For those who want to know more, here's the film's TIFF synopsis:
Set in pre-First World War Germany, Patrice Leconte's venture into English-language filmmaking chronicles the simmering love triangle between an ailing factory owner (Alan Rickman), his young bride (Rebecca Hall) and his protégé (Richard Madden).
Stefan Zweig's novel Journey into the Past, set in pre-First World War Germany, provides the inspiration for Patrice Leconte's venture into English-language production. Employing his by-now familiar style, Leconte, a master of the unexpected, finds a simmering romance within the pages of Zweig's book, and uses its slow heat to powerful effect. But A Promise is no bodice-ripper. It is an elegantly directed, keenly modulated love story.
Hoffmeister (Alan Rickman) is an ailing factory owner, whiskered and respectable. As his energies flag, he looks to a sharp young man in his employ for help. Ludwig (Richard Madden) impresses Hoffmeister with his reliability and youthful spirit, and the older man finds himself leaning more and more on this promising up-and-comer. At the same time, Hoffmeister's young bride (Rebecca Hall) is looking for a tutor for their child, and Ludwig proves both flexible and willing. When he moves into their home, an emotional triangle develops. Societal dignity and decorum must be respected, and it is. Nevertheless, heated passions come into play, while Hoffmeister looks on.
Unravelling over many years, this tale extends well beyond its set-up, and Leconte moves us through the emotional maze, making us aware of the complexities of feeling amongst all of the players. Beautifully supported by three fine actors, A Promise delivers on its premise. Love can take many forms before it either blooms or fades. Beneath those starched shirts and lacy blouses, feelings of respect and care rub up against those of lust and desire.