Marvel Confirms Paul Rudd As 'Ant-Man'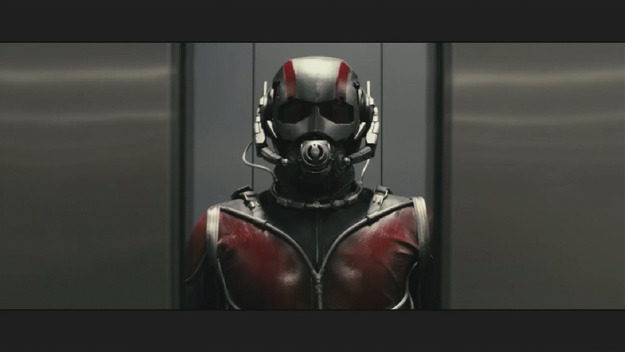 Erase any doubt you might have had that last night's "in talks" report about Paul Rudd playing the lead in Ant-Man for Edgar Wright could have meant that someone else might end up with the role. (The actor had passed off talks of him getting the gig as "all rumor, man" just a week ago.)
Marvel has just confirmed that Rudd will play the role, though the release shies away from naming the specific incarnation of the character, and definitely does not give out any plot info.
Here's the release, from Marvel:
Marvel's "Ant-Man" has found its hero in Paul Rudd, who will star in the new film from director Edgar Wright hitting theaters July 31, 2015!The casting of Rudd represents the actor that Marvel had long ago identified as its first choice to play Ant-Man, continuing the studio's desire to cast actors that bring several dimensions to its onscreen heroes. The film's plot is being kept under wraps."When Edgar Wright came to us with the idea of Paul Rudd, we felt a huge sense of relief because the first step in creating any Marvel Studios film is finding the right star," said Marvel's Kevin Feige. "We knew early on that we had found the right person in Paul. When he not only agreed to do it but became as enthusiastic as any actor we'd ever met with about doing the work, we knew we'd found the right guy. We couldn't be more excited for our audiences to see what he's going to do to bring Ant-Man to life."Rudd brings a diverse background to the role having become one of the industry's most known actors with a reputation for smart, funny and creative performances. Rudd can currently be seen in "Anchor Man 2: The Legend Continues," as well as past roles in "Anchorman," "This Is 40," "I Love You, Man," "Role Models," "Forgetting Sarah Marshall," "Our Idiot Brother," "Knocked Up," and "The 40-Year-Old Virgin" among numerous other films, television shows and primetime animation.In addition to "Ant-Man," Marvel Studios will release a slate of films based on the Marvel characters including "Captain America: The Winter Soldier" on April 4, 2014; "Guardians of the Galaxy" on August 1, 2014; and "Avengers: Age of Ultron" on May 1, 2015.
***
There's more than one Ant-Man, and early reports guessed Hank Pym as the specific Ant-Man that will feature in the film. Wright specifically mentioned Pym in the last couple months. But Pym could feature in the film and not be the lead.
There's a lot of talk about Scott Lang being the character Rudd will play, based in part on Kevin Feige's comments that this will be a heist movie. That suggests a story like 'To Steal Ant-Man'  being one possible jumping-off point. So place your bets now. And as with most of Marvel's movies, expect some differences between the screen version of the character and many of the comic page portrayals.
With Ant-Man set to shoot early next year, and Rudd cast, we should get a flood of casting news soon, which will point to other specific story ideas being used for the movie.
Edgar Wright scripted with Joe Cornish (Attack the Block), and Ant-Man is set for release on July 31, 2015.