Animated Prequel For '47 Ronin' Explains How The 47 Ronin Came To Be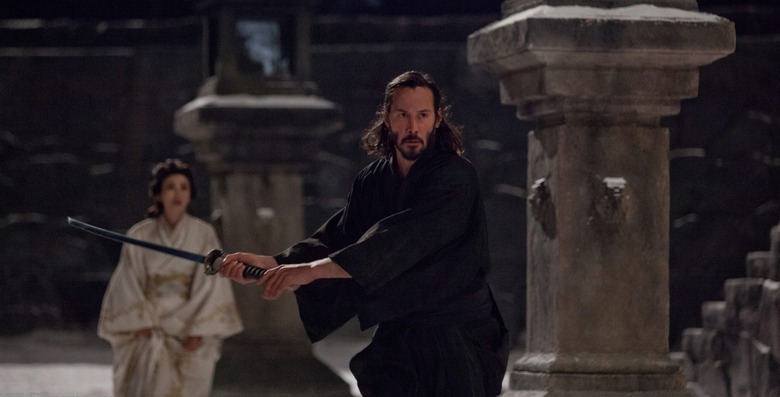 The trailers for Cark Rinsch's samurai epic 47 Ronin have not been short on action or spectacle. But if you were too busy being dazzled by the colorful, fantastical CG effects to pay attention to the story, the new short 47 Ronin: The Way of the Warrior should help set you straight.
The animated prequel delves into who, exactly, the titular 47 Ronin are, and how they got to a place where Keanu Reeves is their only hope. Check it out after the jump.
It's not nearly as attention-grabbing as the trailers for the actual movie have been, and the story might be more exciting if it weren't so simplistic. But it does a lot to explain the world of the movie, like the code of honor that these characters live by and the fantastical creatures that populate their world. Plus, there are some lovely images to look at in the meantime.
47 Ronin opens Christmas Day. Rinko Kikuchi, Tadanobu Asano, Hiroyuki Sanada, and Kô Shibasaki also star.
Keanu Reeves makes an explosive return to action-adventure in 47 Ronin. After a treacherous warlord kills their master and banishes their kind, 47 leaderless samurai vow to seek vengeance and restore honor to their people. Driven from their homes and dispersed across the land, this band of Ronin must seek the help of Kai (Reeves) — a half-breed they once rejected — as they fight their way across a savage world of mythic beasts, shape-shifting witchcraft and wondrous terrors.
As this exiled, enslaved outcast becomes their most deadly weapon, he will transform into the hero who inspires this band of outnumbered rebels to seize eternity.
Helmed by director Carl Rinsch (The Gift), 47 Ronin is produced by Scott Stuber (Ted, Identity Thief), Pamela Abdy (Identity Thief, upcoming Kill the Messenger) and Eric McLeod (Mr. & Mrs. Smith, Austin Powers series).