'Veronica Mars' Gets A Release Date; Veronica And Madison Reunite In New Clip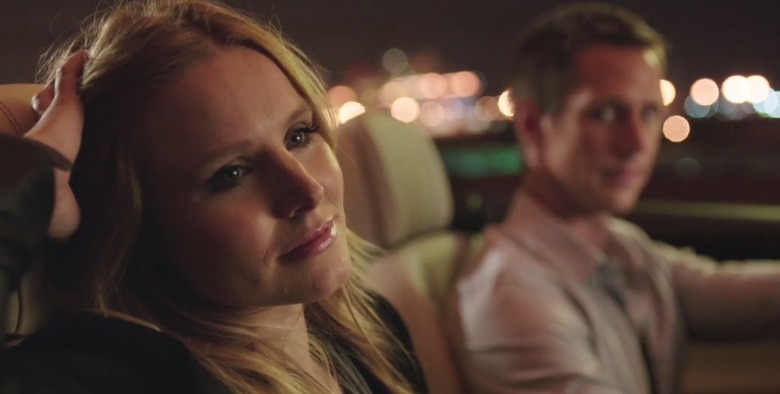 Veronica Mars creator Rob Thomas turned to Kickstarter this past spring, nearly six years after the last episode had aired on The CW to ask fans for their support in making the long-promised movie happen. The so-called "Marshmallows" responded enthusiastically, crushing the $2 million goal in less than twelve hours. Now they're finally about to be rewarded for their fervor.
Thomas announced today that Warner Bros. will release the movie, officially titled Veronica Mars, on March 14, 2014. Hit the jump for more on their distribution plans, plus a clip of Madison and Veronica trading barbs.
The new date puts Veronica Mars up against three very different movies: Grace of Monaco, Need for Speed, and Tyler Perry's Single Moms Club. "Warner Bros. had this date circled for quite some time and hoped it would stay open," Thomas said. "Luckily, no other teen detective movie decided to open in the middle of March."
Production wrapped this summer after just 23 days of shooting, and has been in post-production ever since. At the moment, Thomas is reportedly putting the finishing touches on the VFX and compiling a soundtrack. The film has also held a test screening already, which Thomas said went well.
The plot has Veronica (Kristen Bell), now a lawyer in New York City, returning to Neptune for her ten-year reunion. While there, she reconnects with several of her old friends including Logan (Jason Dohring), who has been accused of murdering his pop star girlfriend.
Many of the series' main and supporting characters are also expected to return, such as Enrico Colantoni (Keith), Tina Majorino (Mac), Percy Daggs III (Wallace), Chris Lowell (Piz), Francis Capra (Weevil), and Daran Norris (Cliff). Sadly, the Mars' trusty canine companion Backup won't be one of them, because as Thomas previously pointed out, "that's a big dog to still be alive 13 years later."
EW has the new clip; click on the image below to check it out.