'Fast & Furious 7' Could Start Over; 'Fast & Furious 6' DVD Proceeds Go To Charity [Updated]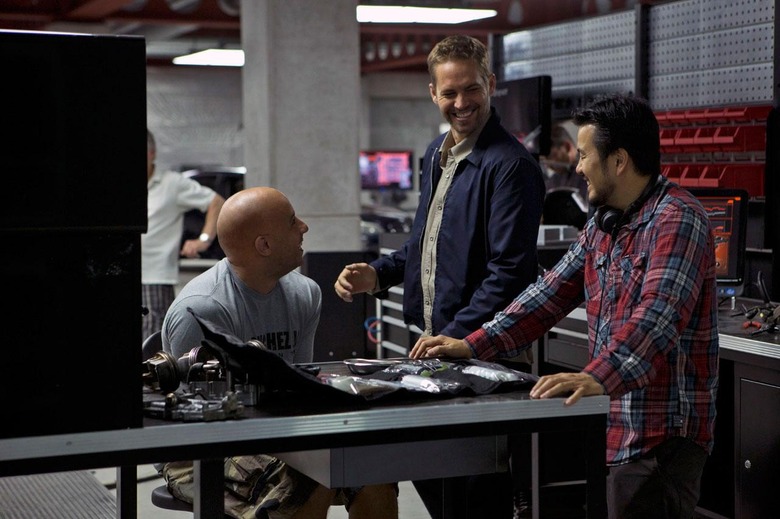 As family, friends, colleagues, and fans mourn Paul Walker's tragic death, the filmmakers behind Fast & Furious 7 are left with the unenviable task of figuring out how to proceed without one of their stars. One of the options being floated, according to a recent report, is to scrap the movie entirely and start over from the beginning.
In the meantime, the studio has hit upon one way to honor the star's memory. A portion of the proceeds from home entertainment sales of Fast & Furious 6 will go toward Walker's charity Reach Out Worldwide. Hit the jump for more on Universal's plans for both movies.
Update: Universal issued a statement this morning saying that Fast & Furious 7 has been shut down for now. The future of the film in its current incarnation is unknown. Read the statement below.
One source who spoke with the trade claims that the studio is thinking of starting over without Walker's character Brian O'Conner, while another insists that they can't imagine cutting Brian's storyline altogether. Another possibility would be to use visual effects to superimpose Walker's face on another actor's body, but insiders say the conversation is not going in that direction right now.
At any rate, the cost of scrapping the film won't be a factor, as losses like this one are covered by insurance. The producers are reportedly taking their time in deciding, as they're concerned about "preserving the integrity" of their billion-dollar franchise.
For now, though, they have agreed to contribute some of the proceeds from home video sales of Fast & Furious 6 , which hits December 10, to Reach Out Worldwide. Founded by Walker in 2010, the organization connects skilled first-responder volunteers to victims of natural disasters. Walker was attending an event for the charity when he died.
Update: Here's Universal's statement announcing the shutdown of Fast & Furious 7:
Right now, all of us at Universal are dedicated to providing support to Paul's immediate family and our extended Fast & Furious family of cast, crew and filmmakers. At this time we feel it is our responsibility to shut down production on Fast & Furious 7 for a period of time so we can assess all options available to move forward with the franchise. We are committed to keeping Fast & Furious fans informed, and we will provide further information to them when we have it. Until then, we know they join us in mourning the passing of our dear friend Paul Walker.