LOL: 'Key & Peele' Valet Guys Meet Liam Neeson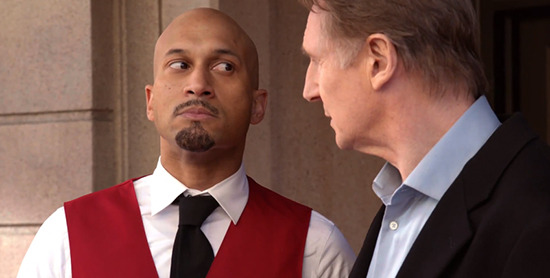 Key & Peele is one of the funniest shows on TV right now, and one of the good recurring bits features the two comedians, Keegan-Michael Key and Jordan Peele, playing a pair of valet attendants who are obsessed with Liam Neesons. Yeah, "Neesons." the simple mention of Neeson's name is enough to send the two movie lovers into slow-mo scene recreations and apoplectic paroxysms of delight.
You had to know these guys would meet the actor eventually. Now that he's got a new movie to promote (Non Stop, opening February 28) the actor ended up caught between the two super-fans. Watch the skit below.
Here are the older sketches, in case you've missed them:
Finally, just in case you're ready to cry foul that the show is using the sketch to cross-promote a movie, remember that Key and Peele have already used it as a promo for their own show: