Hammer Films Remaking 'The Abominable Snowman'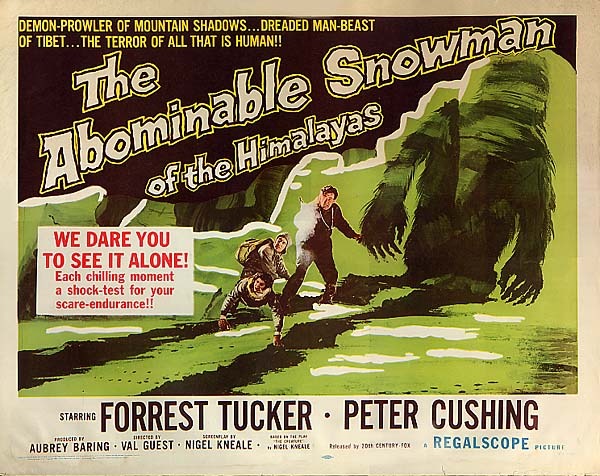 The classic genre movie studio, Hammer Films, is dipping back into its history for a chilling upcoming film. They've decided to remake their 1957 film The Abominable Snowman about the mythical creature called the Yeti who lives in the Himalayas.
In the original film, a group of scientists traveled into the mountains looking for the creature, but this modern take will have a slightly different spin with more horror elements. Matthew Read and Jon Croker are writing.
Coming Soon posted about the film. Here's the press release with all the particulars.President & CEO of Hammer and Vice-Chairman of Exclusive Media, Simon Oakes, announced today that Hammer, an Exclusive Media company, will produce a new version of The Abominable Snowman. The project is being developed by Hammer in association with Ben Holden (The Quiet Ones, The Woman in Black: Angel of Death).In this modern take on the Yeti myth, a scientific expedition's illegal assent up an unclimbed peak of one of the World's most formidable mountains accidentally awakens an ancient creature that could spell a certain end for them all.The original screenplay by Matthew Read (Pusher, Hammer of the Gods) and Jon Croker (The Woman In Black: Angel of Death, Desert Dancer) will put a modern twist on the 1957 iconic original film from Hammer's extensive canon of work.Simon Oakes said of the project: "The success of 'Let Me In' and 'The Woman In Black' has shown that there is an appetite for quality horror films so it is exciting to draw on Hammer's unparalleled source material in this genre which can be reimagined and updated for a new audience."
That second paragraph is the most telling. It almost sounds like it's being framed as a remake as well as a sequel, because the scientists don't seem to know about the Yeti. Maybe that's not the case, but the idea of the Yeti having endured the events of the first film, then went into hiding, only to awaken years later, might actually be a cool spin.
These days, the character is better known for his cartoon form so it seems like a good time to reinvent it. Do you think now is the right time for a remake of The Abominable Snowman?