'Cuban Fury' Trailer: Nick Frost Unleashes His Inner Dance Demon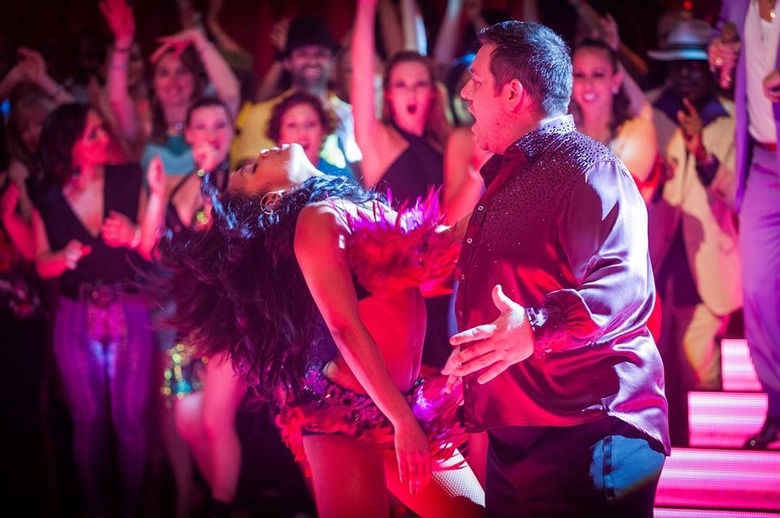 Nick Frost has made a nice career of playing sidekicks and supporting characters, often alongside frequent collaborator Simon Pegg. But as his unexpected straight-man turn in The World's End showed, the guy's certainly got the chops to lead a movie of his own. In Cuban Fury, he gets the chance to do just that.
Directed by James Griffiths (NBC's Up All Night) from an idea by Frost, the comedy follows a lonely sad-sack named Bruce (Frost) who's crushing on his gorgeous new boss Julia (Rashida Jones). Because this is a movie, the only way he can win her over is by mastering the art of dance. Good thing he used to be a child prodigy at salsa dancing — now all Bruce needs to do is rediscover his inner passion. Check out the trailer after the jump.
I wish we got a better sense of Bruce's supposedly legendary dancing skills, seeing the plot basically hinges on that talent. (Even if it is already really obvious that most of the moves will be done by stunt doubles and not Frost himself.) It's also unfortunate that Bruce doesn't get much time with Julia in the trailer, since at this point he seems to have way better chemistry with his supposed nemesis Drew (Chris O'Dowd) and his helpful sister Sam (Olivia Colman) than he does with the woman who supposedly turns his life around.
But the mere fact that Frost, O'Dowd, Jones, and Colman are involved is enough to pique my interest, and for the most part the trailer looks like a fun little fling. If only real life were more like the movies, and more things were settled via epic dance battle.
Appropriately enough for such a sizzling romcom, Cuban Fury opens Valentine's Day 2014 in the U.K. It does not have a U.S. release date yet, unfortunately.