'Helix' TV Trailer: A Sci-Fi Chiller From 'Battlestar Galactica's Ronald D. Moore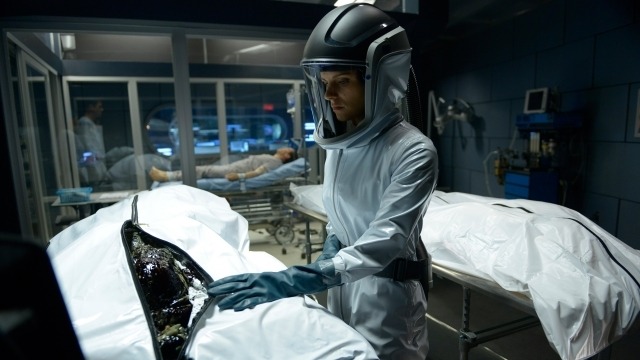 Battlestar Galactica showrunner Ronald D. Moore is returning to Syfy this winter with another tale of people isolated in inhospitable surroundings, as the threat of the end of all humanity looms over them. The specifics, however, are very different this time around.Helix follows a group of CDC scientists who journey to the Arctic to look into reports of a disease outbreak at a research facility, and then quickly discover that the problem is much more horrifying than they'd feared. Check out the first real trailer after the jump.
That's much more revealing and just as creepy as that first teaser, which just showed a scientist dripping some of that ugly black blood. There are chilling shades of John Carpenter's The Thing — a horror classic Moore liked enough that he contributed when the time came to make a remake/prequel.
Here's the official synopsis for Helix from the network:
Helix is an intense thriller about a team of scientists from the Centers for Disease Control who travel to a high-tech research facility in the Arctic to investigate a possible disease outbreak, only to find themselves pulled into a terrifying life-and-death struggle that may hold the key to mankind's salvation or total annihilation. However, the lethal threat is just the tip of the iceberg, and as the virus evolves, the chilling truth begins to unravel.
Billy Campbell stars as Dr. Alan Farragut, leader of the Centers For Disease Control's Special Pathogens Branch. He heads to the Arctic to investigate a potential "hot zone" at the remote Arctic Biosystems base, where he meets facility head Dr. Hiroshi Hataki (Hiroyuki Sanada). Charming and helpful as he seems at first, Hataki may have a few ulterior motives up his sleeve.
Also starring are Kyra Zargosky as Farragut's ex-wife and colleague Dr. Julia Walker; Jordan Hayes and Catherine Lemieux as Doctors Sarah Jordan and Doreen Boyle, members of Farragut's rapid response team; Mark Ghanime as Major Sergio Balleseros, the Army liaison for Farragut's group; Meegwun Fairbrother as Arctic Biosystems' head of security Daniel Aerov; and Neil Napier as Farragut's brother Dr. Peter Farragut, a scientist at Arctic Biosystems.
Helix premieres Friday, January 10 at 10/9c on Syfy.