Could 'Thor' Star Jaime Alexander Play Wonder Woman In 'Batman Vs. Superman'?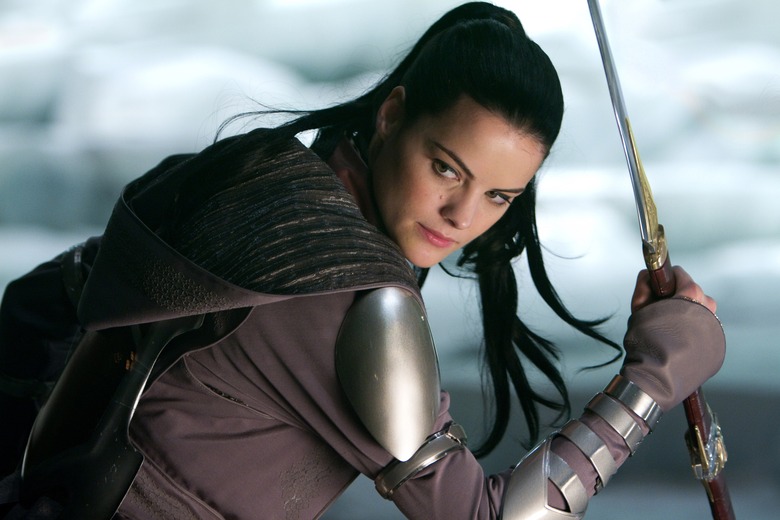 After making a mark on the Marvel Cinematic Universe as badass warrior Sif, Jaimie Alexander could head to Warner Bros. / DC to play the ultimate female superhero.
At this weekend's Comikaze Expo, the Thor: The Dark World actress revealed that she has met with Warner Bros., possibly about playing Wonder Woman, and probably for Batman vs. Superman. Hit the jump to learn exactly what she had to say about it.
During the event's AMC panel, Alexander confirmed that she'd been having conversations with both Marvel and DC about superhero flicks. Then that comment got really interesting when she let slip that she "kind of knows the story line" for Batman vs. Superman, even though they've been kept under very tight wraps.
We know DC wants desperately to bring Wonder Woman — inarguably the most iconic female superhero of all time — into their cinematic universe. And while a Wonder Woman standalone film seems to be a ways off still, there have been rumors that the Amazon princess could make her big-screen bow in 2015's Batman vs. Superman.
Alexander's comments indicate she has been speaking with the studio specifically about Batman vs. Superman. Though she later laughed that everyone in the comic book movie world "knows lot of the same people at DC and Marvel, so we hear a lot of things," WB presumably isn't spilling the narrative arc beans to just anyone who asks.
Of course, it's always possible she's up for a different role. But her performance as Sif does make her seem like a perfect fit for Wonder Woman. Indeed, Alexander proudly compared her Asgardian heroine to Wonder Woman in a chat with Forbes.
I'm a huge fan of Wonder Woman. I really think if this is the closest that we're ever going to get to Wonder Woman, then I'm proud to play Sif. I hope that other comic book entities can learn a lesson from Marvel in how to execute a female character the way it should be done.
I really would like to one day see a Wonder Woman film or Wonder Woman character, but until it's done with class, I'd rather it not be done.
All the usual caveats apply here: It's early days still, actors lie or get confused all the time, nothing is confirmed until WB says it is, and so on. But this rumor seems more plausible than most, and I, for one, definitely wouldn't mind seeing it come true.
Thor: The Dark World opens this Friday, November 8. Batman vs. Superman is due out July 17, 2015.