Sequel Bits: 'Society 2,' 'Mad Max,' 'Paranormal Activity,' 'Monsters: The Dark Continent'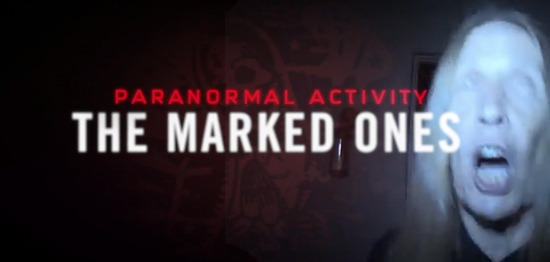 There are new posters for Paranormal Activity: The Marked Ones, and Monsters: The Dark Continent, but I'm pretty psyched to hear that a sequel to Society is still in development. So that's the first thing up after the break in this Sequel Bits, with the posters and comments from Tom Hardy about Mad Max and Michael Fassbender about Prometheus 2 after the break.
Brian Yuzna's comedy/satire/horror film Society is about a version of Beverly Hills in which the rich are literally different creatures from the rest of us, and the movie has one of the most jaw-dropping climactic sequences you'll ever see. After checking this one out, you'll never hear the phrase "the shunting" without feeling a little revulsion.
There have been efforts to make another film, and Yuzna says they're still under way. He tells the Horror Channel he's seeking funding for a follow-up:
I am actively working on it. Once again it is all about the financing. My idea for a sequel is to have it take place in these super exclusive late night clubs that they have in Hollywood. Once you get in there is always a VIP room or a VVIP room that is off limits...
Here's the original trailer for Society, which is one messed-up movie:
We know that Mad Max: Fury Road, directed by George Miller and starring Tom Hardy as the new Max, has been mostly completed for a while, but will do some additional shooting to expand the scope of the film. Now Hardy has explained the reshoots just slightly, though you won't learn all that much from his quotes here. Mostly there's some nice enthusiasm from the actor.
Meanwhile, Michael Fassbender is being asked about Prometheus 2 as he promotes 12 Years a Slave, and he tells Yahoo! Movies the film is taking time to work out, but that's OK.
Everybody's asking this, it's cool! You know, it takes time. I don't want them to rush it. I mean the reason that Pixar movies are so amazing is because they spend years throwing it out the window, re-jigging it, coming up with an idea, breaking it down, starting again, you know. So to make it correctly, I think it's actually very encouraging. Because a lot of the times they're like 'we made some money let's jump on the back of this. We wanna make more money again as soon as possible.' [But] it's nice to actually have a little bit of time to develop it.
Here's the new poster for the first of two new Paranormal Activity movies planned for next year.
This is for Paranormal Activity: The Marked Ones, which is the Latino-oriented spin-off film. Based on the trailer, we'll see the same basic vibe as the core series, with a character marked by supernatural forces, which gives him significant extra-human powers. But he probably won't live the superhero life. There's also a minor nod to one of the key Paranormal Activity characters, which is alluded to in this poster, too. Fans of the series will recognize that red triangle.  But this is a pretty great poster: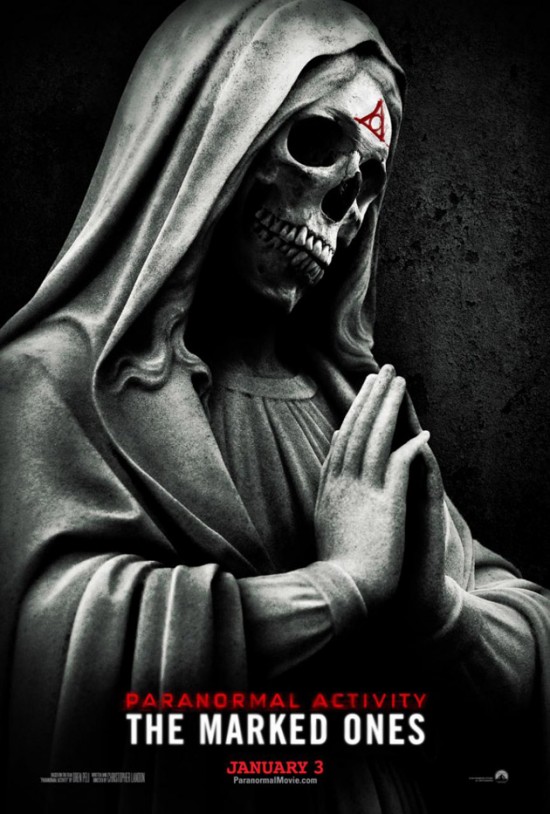 Paranormal Activity: The Marked Ones opens on January 3, 2014. There's also this 'Dia de los Muertos' themed spot, which arrived today:
And then, via STYD, there's this Monsters: The Dark Continent sales art, which looks a lot like the early teaser art from the first film: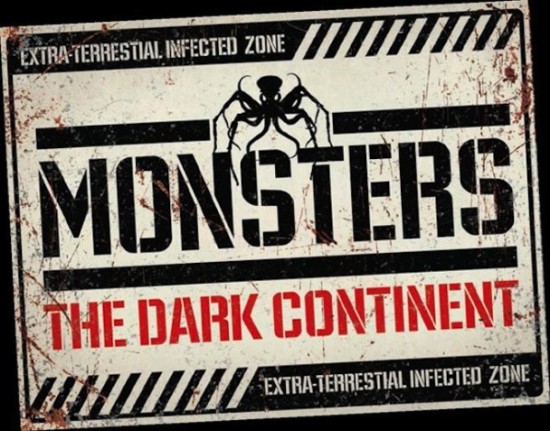 While the first film took place in North America, this one shows the monster-infected Middle East. First time feature director Tom Green (Misfits) is at the helm, with Johnny Harris (Welcome To The Punch), Sam Keeley (What Richard Did) and Joe Dempsie (Game Of Thrones) in the cast.
From my first visit to the location shown here, in Jordan, it was somewhere I felt was key to making Dark Continent work. The moonscape-like environment was the perfect basis for an 'alien' landscape. The quarry trucks you see here became 'buggies' to transport the remains of firebombed monster herds to be incinerated, with all the leading characters emerging from the dust to witness the scale of the death toll for the first time — and for one character maybe too many times...