'Jaws' Themed Art Show Opens Friday - An Exclusive First Look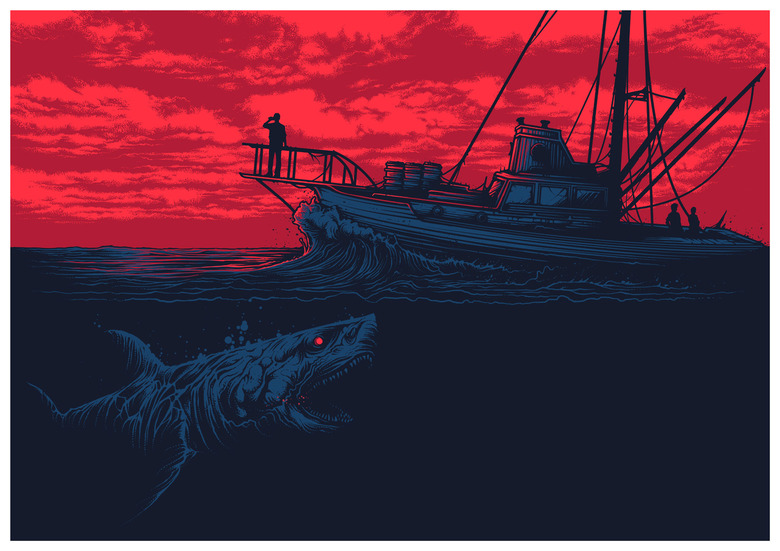 Sheriff Brody might think Quint's gonna need a bigger boat, but you're gonna need a bigger house. "Why," do you ask? How else could you possibly accommodate all of the incredible art in this week's Jaws themed art show, "Smile You Son Of A Bitch?" It takes place for three days only, November 1-3, at the Hero Complex Gallery in Los Angeles, CA. Proceeds go to PangeaSeed, an activism group which raises awareness for the preservation and conservation of sharks.
Below we've got more info on the event including your first look at over a dozen of the almost 100 different works based on Steven Spielberg's 1975 blockbuster, from artists like Craig Drake, Marko Manev, Joshua Budich, Cuyler Smith and many more.
Smile, You Son of a Bitch! An Art Tribute opens from 6-10 p.m. November 1 and will be open through November 3 at the Hero Complex Gallery, 2020 South Robertson Blvd. Studio D. Los Angeles, California. There's a $10 cover and there are sure to be plenty of surprises throughout the weekend, including original film memorabilia, discussions with leading shark experts and more.
Here are just 14 of the pieces that'll be on display in the show. Mouse over each for the artist name.
For more information on the show, visit HeroComplexGallery.com, Pangea Seed or Facebook.