Get Details For The 42-Track 'Arrested Development' Soundtrack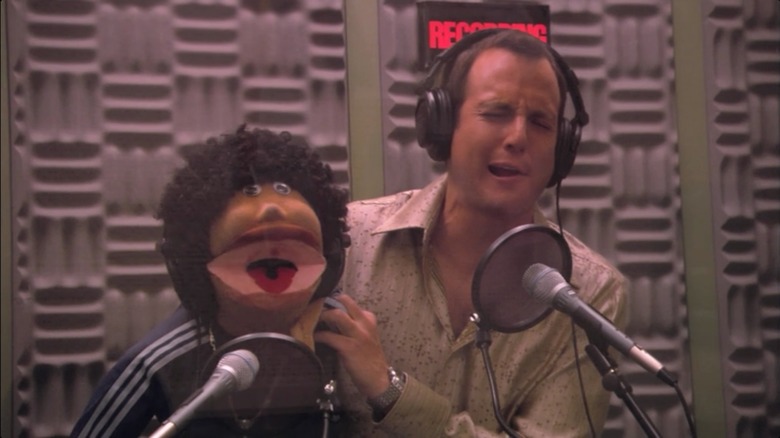 We may receive a commission on purchases made from links.
Arrested Development may not be a musical per se, like Smash or Glee, but it's certainly contributed its share of catchy, earworm-y tunes to the pop culture landscape. What Bluth supporter doesn't know the chorus to "It Ain't Easy Being White" from Franklin Comes Alive? Or immediately think of Mark Cherry's "Getaway" when they see the word "getaway"?
In that light, it shouldn't be so surprising that the beloved sitcom is putting out a soundtrack, or that there are a whopping 42 tracks on it. To be sure, not all of them are full-length songs (the shortest is the 15-second "Mock Trial"), but collectively, they're an entertaining reminder of the great work that composer David Schwartz has done on the series. Hit the jump for the full track listing.
Arrested Development (Main Title) (0:18)
She's Cute (1:25)
Get Away (Extended Version) (2:53)
Practice Kisses (1:51)
Sound of Silence / The Cockroach (Medley) (1:09)
Balls In The Air (Extended Version) (3:05)
Face Blindness (L&M) (1:33)
You'll Never Hear From Me Again (3:35)
As It Is Such (Medley) (1:18)
Tobias Eat Pray Gay (Medley) (0:40)
Motherboy (1:19)
Franklin's Brown Sugar (0:23)
It Ain't Easy Being White (1:19)
Shot By Love (Extended Version) (3:04)
Mr.F (0:49)
The Yellow Boat (1:56)
All You Need Is Smiles (0:27)
Big Yellow Joint (0:27)
Big Rock'n Yellow Joint (0:09)
The Cute Test (2:05)
Aloha Lei To You (1:09)
Oh Phoenix (2:14)
Andele (0:28)
Bang Bang Bang Bang (Buster Dance) (2:14)
I'm Blue, Man (2:13)
Mock Trial (0:15)
Not Your Father, Mopy,
What Could Be Better (1:20)
She Winked (1:07)
Free At Last (1:18)
Oh My (Medley) (0:49)
Get Along, Little Sheep (0:29)
Big Ska (0:49)
Buster & Lucille & George & GOB (0:40)
Fantastic 4 (Medley) (0:54)
The Invisible Girl (0:58)
Rub It In (1:53)
The Chipper (1:39)
Teamocil (0:35)
You Here With Me (1:27)
Police Cruise (1:04)
Boomerang (3:37) Performed by Lucy Schwartz
Varèse Sarabande releases At Long Last... Music And Songs From Arrested Development on November 19. Pre-order it now from Amazon.