Sarah Silverman Posts Her Failed NBC Pilot 'Susan 313'; Watch It Here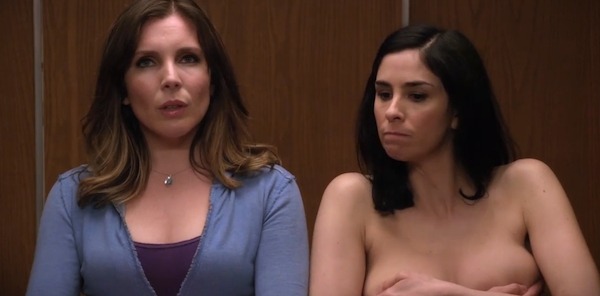 Typically, when a show fails to make it past the pilot stage, it just quietly disappears. The episode is never shown to the public, and the cast and crew stop mentioning it in interviews, and it's basically like the whole thing never happened at all.
Still, a lot of work has already gone into the show by that point, so on the occasion that a failed pilot makes it out, the results can be interesting to see. Last year, Sarah Silverman taped Susan 313, a semi-autobiographical half-hour sitcom about a '90s rock star coming out of a ten-year relationship. She's now posted the pilot in its entirety online, and you can watch it after the jump.
Susan 313 was intended to air in the 2012-2013 season, but never got picked up by NBC. Silverman admits right in the intro that NBC "probably did the right thing" by passing on the show, even though she's obviously pretty proud of it — and with good reason. The episode is funny and inventive, with loads of great talent. It's not perfect, but then most shows (and comedies in particular) tend to improve as the first season progresses.
It's also quite a bit more interesting than the comedies NBC did greenlight this year, including Sean Saves the World, The Michael J. Fox Show, and the already cancelled Welcome to the Family. Of course, looking at that lineup also makes it obvious why the Peacock didn't want it. Susan 313 is funny, but it would've stuck out like a sore thumb in that lineup. It's just too bad Fox or a cable network couldn't pick it up instead.
What do you think?