Rumor: Idris Elba Cast In 'Jurassic World' [Updated]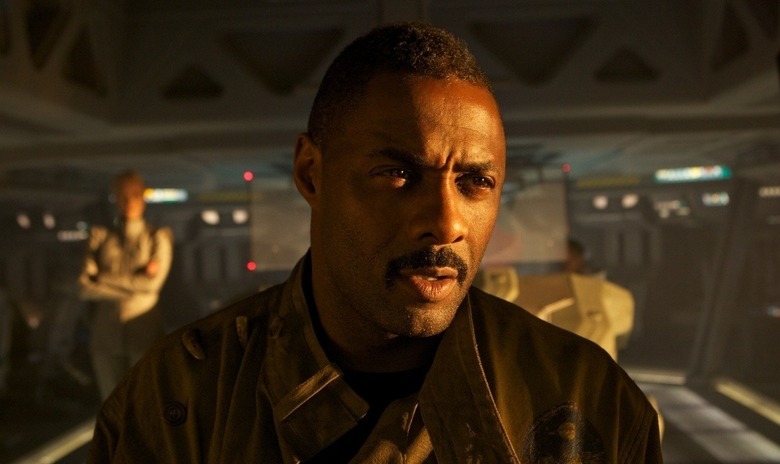 Director Colin Trevorrow is currently shopping for dinosaur food. He's already lined up Nick Robinson, Ty Simpkins, Bryce Dallas Howard and Josh Brolin to potentially be eaten by genetically engineered creatures in the 2015 sequel Jurassic World. Now a rumor has begun to circulate of another possible meal for a T-Rex.
His name is Idris Elba, star of The Wire, Luther and this year's Mandela: Long Walk To Freedom, Thor: The Dark World and Pacific Rim. Elba's casting has yet to be confirmed, and his representation as well as Universal Pictures, have yet to comment. If it's true though, he's an awesome addition to what's looking like a delicious cast.
Update: Elba's publicist says the rumor is not true.Cinemablend has a great round up of all the sources on this rumor. According to them, it started on Jurassic World Movie News, was picked up by Acting Auditions and even made it to Wikipedia. Like I said though, we've inquired with Elba's representation and Universal about his potential involvement and have yet to hear back.
Very little has been released in the way of plot details for this fourth Jurassic Park film except Brolin's role would be a lead and Robinson and Simpkins will be brothers. His sons? Possibly. And I assume they will all have a run in with some dinosaurs. If Elba joins, it'll be yet another franchise he's become a part of, each of which he's only made better.
We're sure to find out more about the film soon as Trevorrow and his crew get ready for production in the coming months.
Jurassic World opens June 12, 2015.