Star Wars Bits: 'Star Wars Rebels', 'Star Wars Pinball', George Lucas' Museum, Chewbacca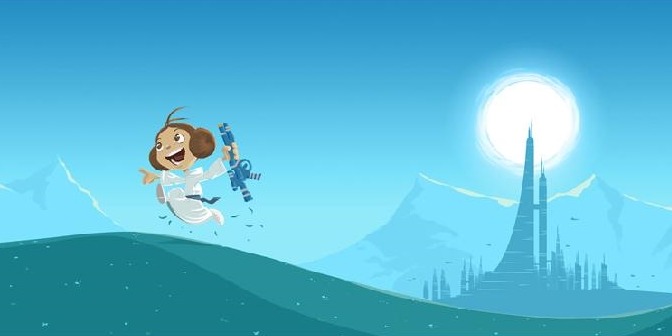 More people throw their hats into the Episode VII casting ring, some more sincerely than others, while George Lucas tries to get moving on his next, non-Star Wars-related endeavor. After the jump:
Could this guy be the new Chewbacca?
Queens of the Stone Age's Josh Homme "auditions" for Star Wars
J.J. Abrams says Episode VII won't be Disney-fied
George Lucas's museum could move to Chicago
Jason Christman and Nick Scurfield debut new prints
Star Wars Pinball reveals another new trailer
Look for a Star Wars Rebels teaser on Monday
Although Mathers has no professional acting experience, he brings plenty of enthusiasm to the table. Mathers has been a fan of the franchise since he first saw Return of the Jedi as a child. "It'd be my dream come true to be part of the latest installment," he said. [BBC]
Saoirse Ronan said recently that "everyone" has read for Episode VII, and now we can count Queens of the Stone Age's Josh Homme among that crowd. Homme teamed with YouTube comedy channel Stinky Mike to submit his "audition" to play R2D2, the "king of the droids." Watch it below.
I don't know about you, but Homme had me at "bleep boop." [via Consequence of Sound]
Since the moment Episode VII was announced, diehard Star Wars geeks have worried that Disney would, well, Disney-fy the franchise. However, director J.J. Abrams assures fans that that won't be the case at all.
The beauty there is Disney doesn't want that. They are well aware of this and they are very careful to make sure that...they are sensitive to that. They don't want that at all, that's the last thing they want. But that company, which is Marvel, they have...it's incredible the scale of that company. They are as aware of that as anyone.
As Abrams points out, Disney's done pretty well by Marvel, balancing grown-up themes and action while keeping it sanitized enough for the kiddies. We can hope they'll pull off the same trick with Star Wars. See the rest of Abrams' interview with Tavis Smiley here. [Mania]
George Lucas' post-Star Wars plans have hit a speed bump. The Star Wars creator had been planning for some time to open an art museum in Northern California, to celebrate CGI and the digital arts as well as to show off his own personal collection of paintings.
However, the Presidio Trust, which controls the land on which the museum would be located, is now eyeing two other proposals for the space. Lucas vented his frustrations in an interview, complaining, "They hate us."
He's so exasperated, in fact, that he's considering moving the entire project to another city. Lucas claims that Chicago mayor Rahm Emanuel would be more than happy to let him open up shop there. "They've wanted it desperately since they first heard about it," he said. [NYT via Mashable]
As Episode VII prepares to shoot, celebrate your lingering affection for the original trilogy with these new prints from Nick Scurfield and Jason Christman.
Scurfield continues his "Destiny" series, which started with "Little Luke's Destiny" several months ago, with "Little Han's Destiny" and "Little Leia's Destiny."
Meanwhile, Christman keeps his signature minimalist style going with his latest works, "Detach Cable" and "I Have You Now."
All four prints and many more are available for purchase at Acme Direct. [Acme Limited]
Zen Studios has released another new trailer for Star Wars Pinball: Balance of the Force, this one highlighting the Starfighter Assault table.
This is one of three tables that'll be released together on October 15. We got a peek at the Return of the Jedi one last week, and we'll presumably get a Darth Vader-centric trailer before long.
Star Wars Rebels won't debut for another year, but Lucasfilm is eager to get the buzz going. The first teaser is expected to air this coming Monday on Disney XD. To check it out, tune into the premiere of Mighty Med at 8:30 PM, or just wait for the video to hit the web soon after.
The show will follow a teenager coming of age within the nearly two-decade gap between the old and new trilogies. As the Empire secures its grip on the galaxy, the Rebel Alliance begins to take shape.
Dave Filoni (Star Wars: The Clone Wars), Simon Kinberg, and Greg Weisman will executive produce the show, while David Oyelowo, Freddie Prinze Jr., Vanessa Marshall, Taylor Gray, and Steven Jay Blum comprise the cast. Star Wars Rebels will kick off next year with a one-hour special on Disney Channel, to be followed by a series on Disney XD. [Coming Soon]