'Kick-Ass' Writer Mark Millar Goes Family-Friendly With 'Kindergarten Heroes'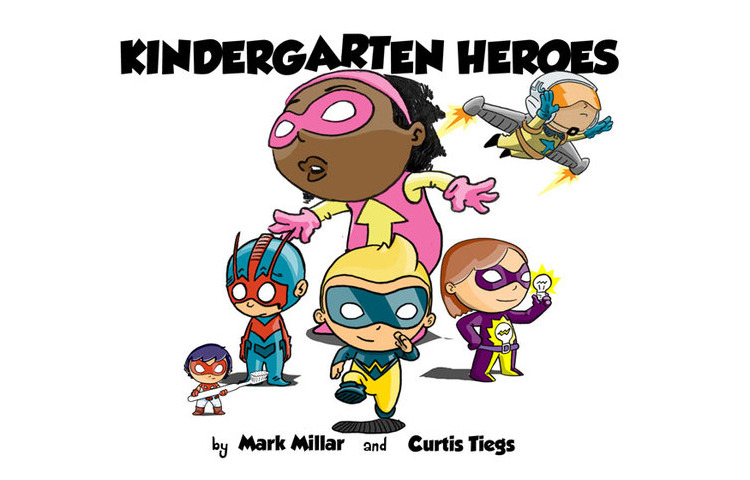 There probably isn't much that Mark Millar, the writer behind dark, R-rated superhero fare like Wanted and Kick-Ass, could do to shock his fans. But his latest move may just do the trick.
Millar is foraying into kiddie territory with Kindergarten Heroes, a children's movie based on his book of the same title. Carter Blanchard (Spy Hunter, Glimmer) is set to pen the script for Fox. Hit the jump for plot details and more.
In fairness, Millar doesn't only write dark adult fare. He's worked on mainstream titles for Marvel and DC, and currently oversees (or consults on, or does nothing, depending on who you talk to) comic book properties like X-Men and the Fantastic Four for Fox.
But if you mostly know him as the author of Wanted and Kick-Ass, as most filmgoers probably do, the fact that his next adaptation will be a family-friendly adventure comes as a big surprise. After all, this is the guy who gave us Hit-Girl, possibly the single most violent, foul-mouthed tween girl in pop culture history.
Kindergarten Heroes has yet to be published, so details on the book are somewhat scarce. Millar has previously described it as being "packaged and written and drawn like a traditional children's book," but with superhero characters. Curtis Tiegs provided the illustrations.
In an earlier interview with Comic Book Resources, Millar described the plot as follows:
All I'll say is that it does what it says on the box, which is that this is the kindergarten where all the superheroes leave their toddlers when they go on their adventures. We never see the parents, so we can assume that these kids are the super-powered off-spring of all your favorite heroes.
The goal of the book, he added at the time, would be to "make it genuinely funny, genuinely exciting and genuinely dramatic when it needs to be," with a Pixar-like appeal for adults and kids alike. Pulling off Pixar's mix of humor, intelligence, and warmth is a tough trick for any storyteller, but if the movie adaptation manages to do it, Fox and Millar could have a major franchise on their hands.
No director or stars have been set for the film. Deadline reports that Simon Kinberg is set to produce, and Steve Asbell will executive produce. Blanchard recently wrote Glimmer, an Amblin-esque time travel flick from DreamWorks, and Spy Hunter, Ruben Fleischer's adaptation of the classic video game.