Sequel Bits: 'The Hunger Games: Catching Fire', 'Jurassic World', 'Star Trek Into Darkness'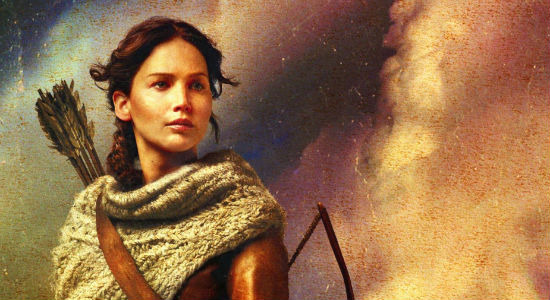 Katniss aims her bow squarely at the "real enemy" in the latest The Hunger Games: Catching Fire poster. Also after the jump:
The first Transformers trailer will hit early next year
Divergent sequel Allegiant accidentally ships early
Jude Law says Sherlock Holmes 3 is still happening
Jeff Goldblum is being all coy about Jurassic World
Jennifer Tilly discusses her Curse of Chucky cameo
Alex Kurtzman talks Star Trek Into Darkness
The page also states that "product," probably meaning toys, will hit shelves May 1, that the DVD/Blu-ray will land in time for the holiday 2014 season, and, most intriguingly, that an "all new animated event" will debut late next year. The movie itself, meanwhile, lands June 27, 2014. [TFW2005]
A handful of Divergent fans were surprised last week to receive Allegiant, the final book of the trilogy, one month before its planned publication date. The early release apparently came about due to a shipping order, and author Veronica Roth is pleading with those lucky fans not to ruin the fun for everyone else:
If you are one of the people who received Allegiant early: I would love it if you wanted to wait to read it until October 22nd alongside your fellow Initiates. However, I can't blame you if that's just not going to work for you. I do ask, no matter what you decide, that out of kindness and respect for your fellow Divergent readers and their reading experiences, you do not post spoilers or quotes anywhere. I know I can count on you to preserve the mystery with me— I may be biased, but I think I have the best readers ever.
Everyone else can get Allegiant on October 22. The movie adaptation of Divergent opens March 21, 2014. [Veronica Roth via Cinema Blend]
Don't let Sherlock Holmes 3's slow progress get you down. Star Jude Law insists that not only is the movie still happening, it'll be even better than its predecessors. "I think Warners want it, and there's a lot of want from us as a team," he said. "We want it to be better than the other two. We want to make sure it's smarter and cleverer, but in the same realm."
One of the biggest roadblocks right now seems to be the scheduling. "It's a slow process. We're all busy. So getting us together to try to nail that has taken a little bit longer than we had hoped," he admitted. In the meantime, see Law act out in Dom Hemingway when it hits April 4, 2014. [Empire]
Could an original Jurassic Park star join Bryce Dallas Howard in Jurassic World? If Jeff Goldblum has any idea, he isn't spilling.
The actor declined to confirm whether he'd reprise his role as Dr. Ian Malcolm, saying only, "Whether I'm in it or not, I'll be first in line for a ticket." Is he just teasing fans for fun, or does the very fact that he's playing coy mean he has something to hide? Find out when Jurassic World opens June 12, 2015. [Financial Times]
The final poster for The Hunger Games: Catching Fire looks fiery indeed. Under the tagline "Remember Who the Enemy" is, Katniss Everdeen (Jennifer Lawrence) looks ready to fire her bow... and it's pointing straight at us. Hold up, are we the enemy?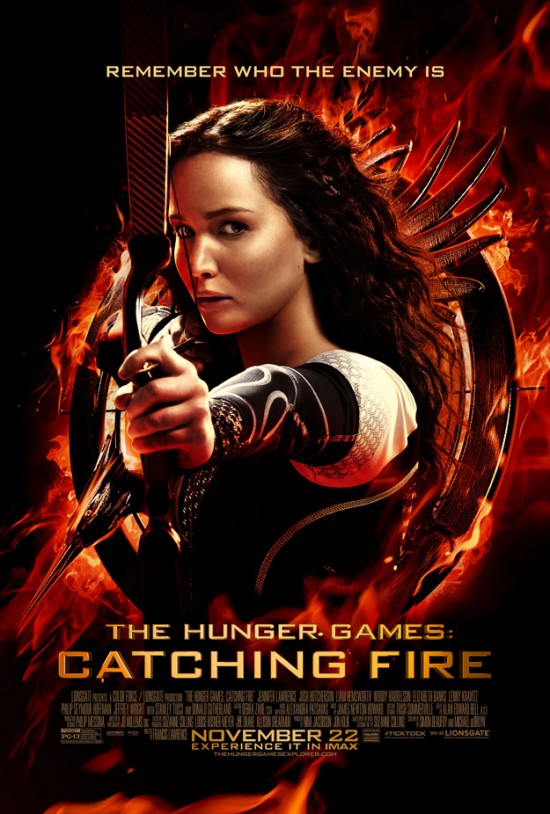 If we are indeed the enemy, that seems pretty unfortunate for us. The Hunger Games: Catching Fire opens November 22. [Coming Soon]
Curse of Chucky differs from the last few installments in some significant ways, such as its emphasis on scares over humor. But one element that carries over into the new film is Jennifer Tilly. The Bride of Chucky and Seed of Chucky actress appears in the new direct-to-DVD installment, which hits shelves October 8.
Tilly says of the new movie:
Even though [Chucky creator Don Mancini] knew it was going to be a video on demand and not in the theaters, he really crafted it with such loving care. Universal wanted it to go back to being scary, and I think it's actually time. When he did "Bride of Chucky" and "Seed of Chucky," [campiness] was the way to go because he was always trying to reinvent "Chucky." But I think the new movie is really truly horrifying. I just have a cameo in the movie, but it's amazing the buzz on the Internet. This is the first movie they released to the critics. It won the audience award at the Fantasia Film Festival in Montreal.
Read the rest of the interview, including Tilly's comments on why she signed on for Bride of Chucky and how it's affected her career, at the LA Times.
Roberto Orci has already said his piece about the rather negative reaction to Star Trek Into Darkness. Now it's time for his quieter partner, Alex Kurtzman, to speak up. Unlike Orci, Kurtzman seems to take the criticism in stride.
I think it's par for the course. We certainly knew going into Star Trek we weren't going to please everybody. We were very happy to see how many critics liked the movie, and the movie did well. At the end of the day, we are really proud of it. We knew we just weren't going to please everybody, particularly when you're taking on a Khan story, who is the most beloved of all villains. We felt ultimately very good about how it turned out, but everybody has the right to their opinion.
Fans took particular issue with Star Trek Into Darkness' reinterpretation of the classic Wrath of Khan scene, but Kurtzman says that was actually his favorite.
It's one of, if not the most iconic scenes ever in Trek canon, knowing that we were going to be heading to that place but for totally different reasons and having the roles be completely reversed was this weird magnet we were drawn toward as we were writing. We knew we had to make that moment credible and believable. What made it work for us conceptually was the idea that Spock was unable to understand for the whole movie Kirk's definition of friendship. He didn't know what it meant. What Kirk was saying was 'The reason that I risked my life for you is because you're my friend, and that's what you do for each other.' Spock's Vulcan mind just wasn't able to process that, and it wasn't until he experienced the loss of his friend that he finally came to understand what friendship meant as Kirk was defining it.
Star Trek Into Darkness is out on Blu-ray and DVD now. [Blastr via Trek Movie]