Tour Universal Orlando's Halloween Horror Nights Mazes: 'An American Werewolf In London,' 'Cabin In The Woods,' 'Evil Dead,' And More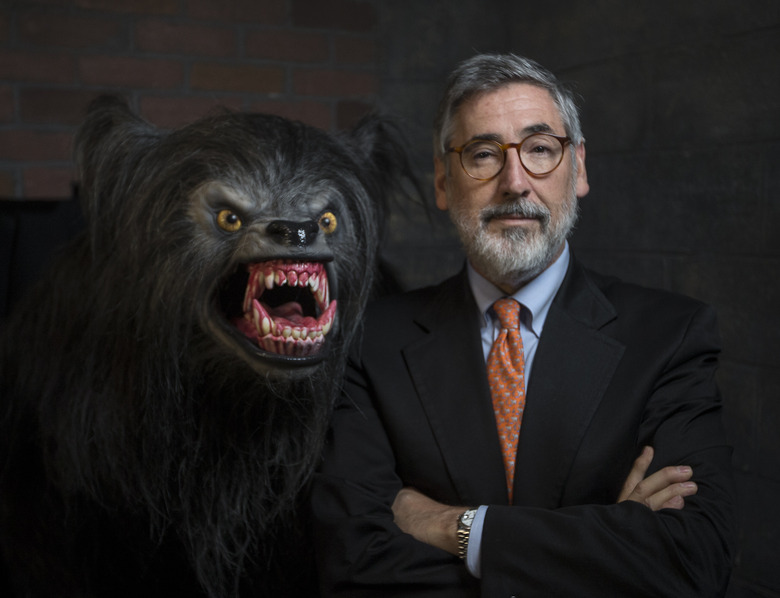 Entering its 23rd year, Universal Orlando's Halloween Horror Nights has a simple directive: to scare you senseless. While the haunted mazes inspired by original and obscure content offer plenty of chills, the main draw is being able to step inside a beloved horror franchise. This year's incarnation dares fans to confront the demons of Evil Dead, the lickers of Resident Evil, the lycanthropes of An American Werewolf in London, the shuffling walkers of The Walking Dead, and the smorgasbord of baddies beneath The Cabin in the Woods. Universal Studios invited /Film to a V.I.P. – sorry, R.I.P – opening night, beginning with a special walk-through with the creator of a bona fide classic.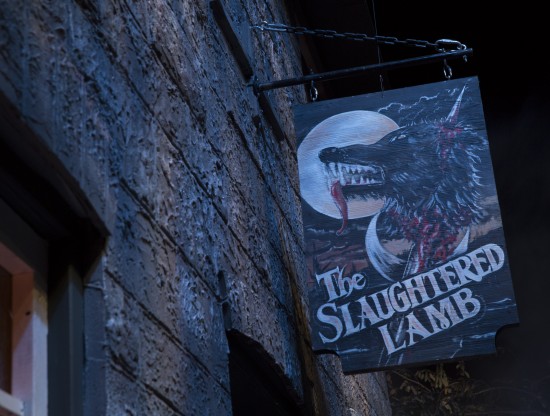 Stick To The Roads. Stay Away From The Moors.
For those weaned on eighties horror the most anticipated attraction may be John Landis An American Werewolf in London. The tragic story, nightmarish imagery, and sound design lend themselves to an unsettling, immersive experience. Writer-director John Landis and Mike Aiello, creative director for Halloween Horror Nights, chatted briefly with /Film before and after the maze. "We're not taking you," Landis laughed. "We're following you!"
Tailing a briskly moving party, relishing their screams, is payoff from a long process of persuasion and planning. Aiello called Werewolf a "passion project" that took some convincing before getting off the ground. "For years they wanted to do this but I wouldn't give them the rights," Landis said. "How do you generate real tension with thousands of people walking through?"
A trip to the annual event changed his mind. Landis found the attractions to be a visceral type of immersive theater. "It's actually a theatrical event," Landis said, "Like a bar or a nightclub: You never want to see it with the lights on! You want to see it with the good lights and the music." Landis wrapped up, saying, "I think you'll enjoy it – depending on just how sick you are." The director and Aiello joined the rear and we embarked to the English countryside.
If you haven't seen Werewolf (or need a refresh): backpacking Americans David (David Naughton) and Jack (Griffin Dunne) seek shelter. After a stop at the Slaughtered Lamb, a pub populated by secretive and hostile locals, the pair head back out across the moors, where a werewolf pounces, wounding David and killing Jack. David wakes in a London hospital with strange urges and visions of his undead friend. Jack warns that David must kill himself or continue the werewolf curse. A lovestruck nurse (a luminous Jenny Agutter) invites David home. The moon turns full. David transforms into the beast. Bloody havoc ensues. Good fun.
You needn't be familiar with the film to find the maze effective. (Landis mused that for the uninitiated, it might be even scarier.) However, fans of Werewolf should be impressed by the details. The Slaughtered Lamb; attack on the moors; family massacre nightmare; "Blue Moon" transformation (I spotted surely the only Mickey Mouse figure within Universal's confines); and mayhem in Piccadilly Circus – each of the major set-pieces are recreated. Most impressive is the London tube, fluorescent-lit and white-tiled, with adverts for the porno and recurring Landis in-joke "See You Next Wednesday."
You really want to stop moving and soak in the atmosphere. But you can't. Werewolves appear out of nowhere. "scharacters" (Universal's term) lurk in the shadows, waiting to lunge into view. Keeping the line in constant motion is imperative to Universal's success, while also bittersweet for the director. "People don't see it," Landis said, referring to the attack on the moor. "They go AHHH! And they don't fucking look at it! And I'm wanting to go 'Look! Look, it's very cool! Look at this!'"
Aiello explained that the werewolves are all puppeteered, which accounts for their erratic motion. "We developed a brand new armature that we're able to move and manipulate." Smiling, Landis added, "The wolf is very much like what Rick Baker did."
According to Aiello, Landis challenged the designers, radically altering sets while emphasizing texture. "Did you notice the ceiling in the Tube?" Landis asked. "It's round. It wasn't at first. I made them do that." Such a specification might seem trivial or go unnoticed, but the cumulative effect is felt. Landis also provided the original sound effects, snippets of dialogue, even Elmer Bernstein's score.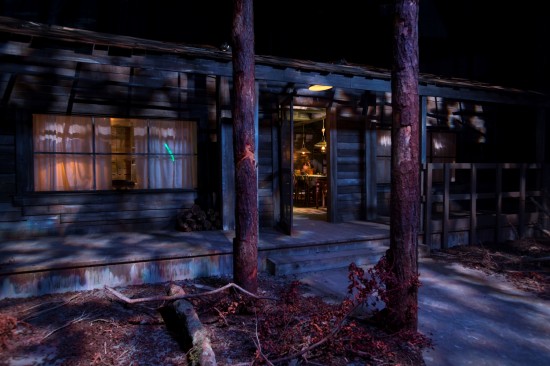 You Will Know Kevin's Wrath
Anyone who has seen The Cabin in the Woods probably senses how awesome a haunted house based on its twisted premise would be. If the maze solely stuck to the Zombie Redneck Torture Family of the first act, with those creatures lurching toward you, it'd be scary enough. But what would really be terrifying would be to find your way to the elevator room in The Facility just as the purge button is hit, with all hell breaking loose.
"We gotta do that!" Aiello said, remarking upon seeing Cabin the first time. At the media event, he relayed details of the maze's origin. Aiello and his team roped in director and co-writer Drew Goddard. "Drew is an amazing guy," Aiello said. "We talked about the maze for a half-hour and then basically talked about horror movies for four hours after that."
Aiello assertion that the maze is the movie is dead on. If you know how the story unfolds, you can't help but feel giddy as you enter the cabin and move through the basement, anticipating the villains you'll soon unleash. Breaching the blood-soaked walls of The Facility is an absolute thrill as, suddenly, monsters and murderers swarm. Like the film, it would take several passes to distinguish every creature. (I can affirm that Kevin's presence is felt.) Word of advice: Do not smirk at Fornicus, Lord of Bondage and Pain. He might pop out of his cube and make you scream like an six-year-old. I learned this the hard way.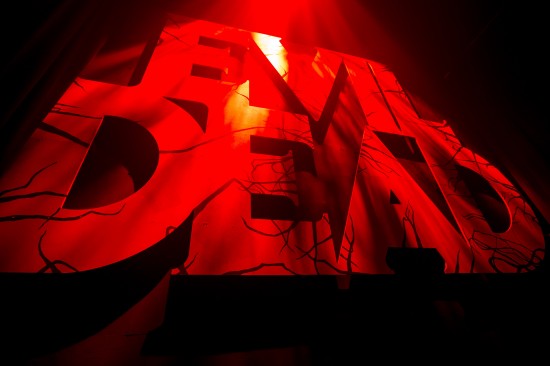 If You Want Blood, You Got It
Whatever your feelings on the resurrection of Evil Dead, there's no denying its core concepts of demon possession and bodily mutilation fit swimmingly in a place like Halloween Horror Nights. This is – by far – the nastiest maze. I mean that as high praise. Punches were not pulled bringing the gorefest to life, as Aiello would explain. "That's what we got attached to: just how gory this film was." Aiello noted that the maze is particularly representational. "You're literally watching these scenes play out. You know, we got a room called 'Blood Puke.'"
Blood Puke, indeed. Every gut-wrenching act of violence is lovingly depicted, combining convincing effects, deafening sound, and very committed performances. If you're a hair squeamish, think twice. Like their repective films, Cabin and Evil Dead begin in similar places, yet the roads diverge sharply: one to winking anarchy, the other to blood, anguish, and chainsaw.
(In case you're wondering, I discovered only a single nod to the original trilogy. Maybe there are several. I promise you won't have time to look.)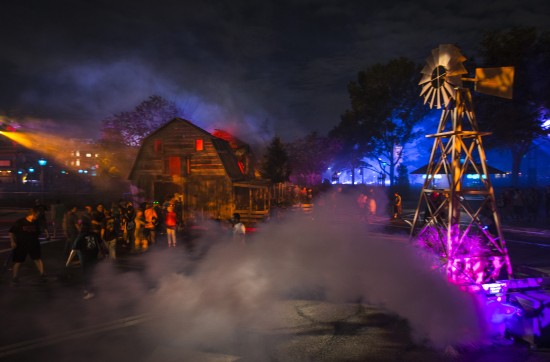 Walkers As Far As the Eye Can See
The phenomenon of The Walking Dead relentlessly staggers forward, expanding its pop culture reach at the speed of a zombie outbreak. Not only does The Walking Dead return to Universal Orlando a second straight year, the entire park has been overtaken with scenes from all three seasons of the hit show. Heading from maze to maze you might spot the Well Walker, Bunny Slipper Girl, or Bicycle Girl while continually side-stepping less notable walkers. You can also check out faithful replicas of Dale's RV, Hershel's barn, and the tank (built from scratch). Street Program Director Laura Walsh stated that the park had never before attempted anything as ambitious. The effort to recreate the feel of the show stretches all the way to the performers. "Walkers from season one are a lot faster than season two or three," she said. "We really put our walkers through an intensive training."
As for the maze – entitled Walking Dead: No Safe Haven – Aiello envisioned a grand design that would showcase the season three battle between Woodbury and the prison survivors. "We're able to build the prison yard. We got the guard tower. The scale of this thing is immense. The final room is the cell block from the show."
In terms of scares, this is one of the gentler mazes. That's not to say it isn't scary; it is, especially when you encounter a victim getting ripped apart. But fans of the series should have an extra moment to savor the Governor's aquarium and the cell block, an imposing realization of set design.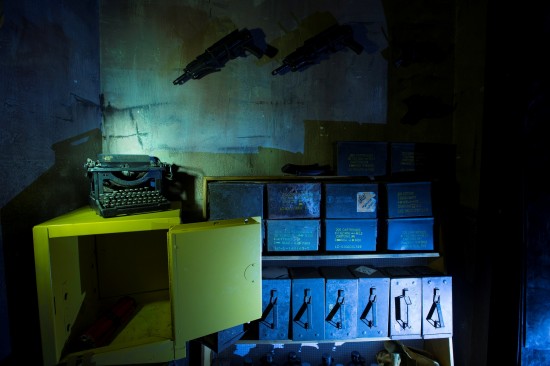 Find Item. Kill the Lickers.
Milla Jovovich fans take note: Resident Evil: Escape From Raccoon City is not based on the films. The maze is devoted to the overlapping Capcom games Resident Evil 2 and 3. While it succeeds mightily as an action-sci-fi-horror environment, cheeky tributes to its provenance are scattered throughout. Claire and Leon battle right beside you. Eagle-eyed gamers will locate items exactly where they should be. One hilarious scene pays tribute to that moment in every gamer's life: the paused game.
On hand for the media event, Capcom Brand Manager John Diamonon stated how fans of the franchise shaped the content. "Just capturing that whole mood, that whole mystery surrounding this viral outbreak was important to us and important to our fans. They really were calling for some more classic survival horror, which is one of the pillars of our franchise."
Having not experienced the games, Resident Evil surprised at every turn. The shy cameraman I walked through with knew the games by heart. Afterward he gushed over how much the maze mirrored gameplay. I don't know how he saw anything given the shuttered fingers over his eyes.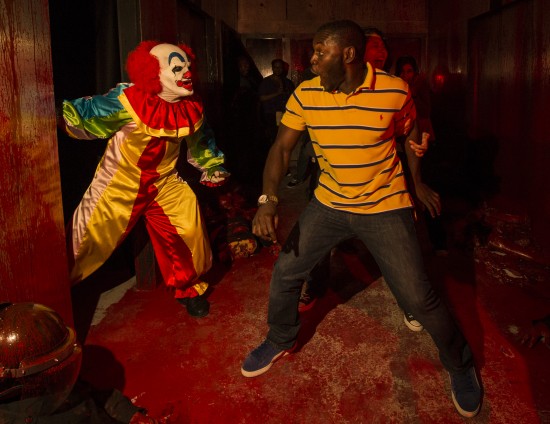 New Nightmares
Though not as hotly anticipated as the licensed properties, the attractions built from lesser known content may hold a distinct advantage: You have no idea what to expect. The remaining three mazes charmed and startled in equal measure. Afterlife: Death's Vengeance tells the story of a serial murderer who suffers eternal torment from his victims after getting fried in the electric chair. (I wonder if Aiello is a fan of Wes Craven's Shocker?) The maze is in 3D and wholly disorienting. Havoc 2: Derailed boasted the most devout actors: each shaved their heads to portray the genetically engineered soldiers bent on destroying a speeding train. Lastly, my favorite of the three, Urban Legends: La Llorona tells of a weeping women cursed eternally to walk the earth. Why so sad? She drowned her children. Creepy stuff.
I loved all the haunts, but for sentimental reasons, An American Werewolf in London will be the most fondly remembered. When asked if he'd consider working on a similar project again, Landis joked of a follow-up that may fare better for the faint of heart. "Next year there's gonna be the ¡Three Amigos! Horror Maze!"
¡Three Amigos!? We're eager to see those scharacters.