Bennett Miller's 'Foxcatcher' Delayed Until 2014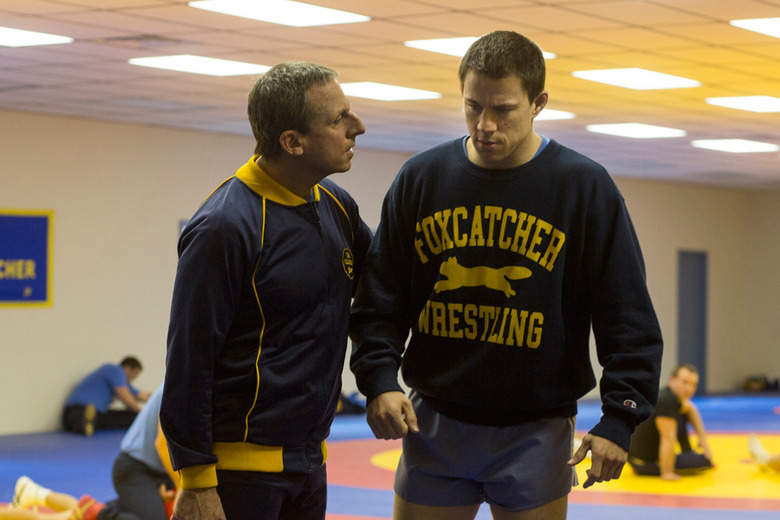 We took our first peek at some footage from Bennett Miller's Foxcatcher yesterday, but it may be some time yet before we get to see the rest of it. Sony Pictures Classic has just delayed the fact-based drama to 2014, pulling it out of contention for the upcoming Oscar race. Hit the jump to find out why.
It's not uncommon for release dates to shuffle around as the end of the year approaches. Just a couple of days ago, The Weinstein Co. moved Grace of Monaco off the 2013 calendar, and we got word that Martin Scorsese's Wolf of Wall Street could be pushed back into next year as well.
Similarly, Alfonso Cuaron's Gravity and Baz Luhrmann's The Great Gatsby were initially slated for 2012 before they were shifted to 2013. In those cases, the decision paid off: Gravity is expected to open big next weekend, and The Great Gatsby has the second-highest domestic box office gross of the year so far.
FOXCATCHER, a psychological drama directed by Academy Award® nominee Bennett Miller (MONEYBALL) and starring Golden Globe® winner Steve Carell, Channing Tatum, Academy Award®nominee Mark Ruffalo, Academy Award® winner Vanessa Redgrave and Sienna Miller, will have its World Premiere on Friday, November 8 as the Opening Weekend Gala. The film was written by E. Max Frye and Academy Award® nominee Dan Futterman. FOXCATCHER tells the story of Olympic Gold Medal-winning wrestler Mark Schultz (Tatum), who sees a way out from the shadow of his more celebrated wrestling brother Dave (Ruffalo) and a life of poverty when he is summoned by eccentric multi-millionaire John du Pont (Carell) to move onto his estate and train for the 1988 Seoul Olympics. Desperate to gain the respect of his disapproving mother, du Pont begins "coaching" a world-class athletic team and, in the process, lures Mark into dangerous habits, breaks his confidence and drives him into a self-destructive spiral. Based on actual events, FOXCATCHER is a gripping and profoundly American story of fragile men who pinned their hopes for love and redemption on a desperate obsession for greatness that was to end in tragedy.