'Free Birds' Poster And Trailer: Owen Wilson And Woody Harrelson Ruin Thanksgiving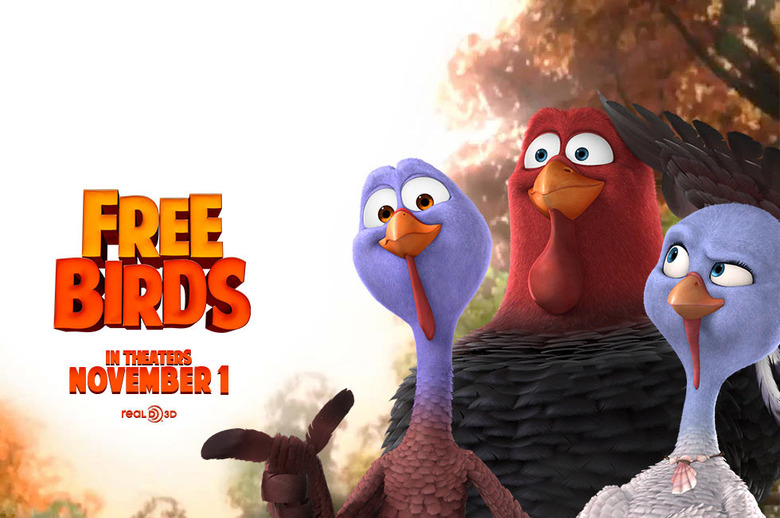 For humans, Thanksgiving is a joyous celebration of abundance and togetherness. For turkeys, though, it's probably something more akin to the Purge. Around 45 million turkeys are eaten in the U.S. each year on the holiday, by some estimates, accounting for about a fifth of the country's annual consumption.
No wonder, then, that the avian leads of Free Birds are so eager to change that. The animated adventure centers around two birds, voiced by Owen Wilson and Woody Harrelson, who get the opportunity to travel back in time and change the course of American culinary history forever. Amy Poehler voices a wild turkey who crosses paths with the dynamic duo. Watch the latest trailer after the jump.
It's all very silly, but the time-traveling turkey concept is an inspired one and Wilson, Harrelson, and Poehler are just so likeable that it's impossible not to root for their characters. The jokes seem to land better than they did in the last trailer, too. Parents could probably do worse than Free Birds, which seems harmless at worst and entertainingly bizarre at best.
Directed by Jimmy Hayward from a script he wrote with Scott Mosier, Free Birds opens November 1. However, the wise move might be to wait until after Thanksgiving to check it out. Otherwise, your lovingly crafted dinner may be met with cries from kids who've just made the connection between the lovable animated heroes they saw in the theater and the steaming slabs of meat on their plates.
In this hilarious, adventurous buddy comedy for audiences of all ages, directed by Jimmy Hayward (Horton Hears a Who!), two turkeys from opposite sides of the tracks must put aside their differences and team up to travel back in time to change the course of history – and get turkey off the Thanksgiving menu for good.