Sequel Bits: 'Serenity', 'Atlas Shrugged: Part III', 'Goon 2', 'Fast & Furious 7'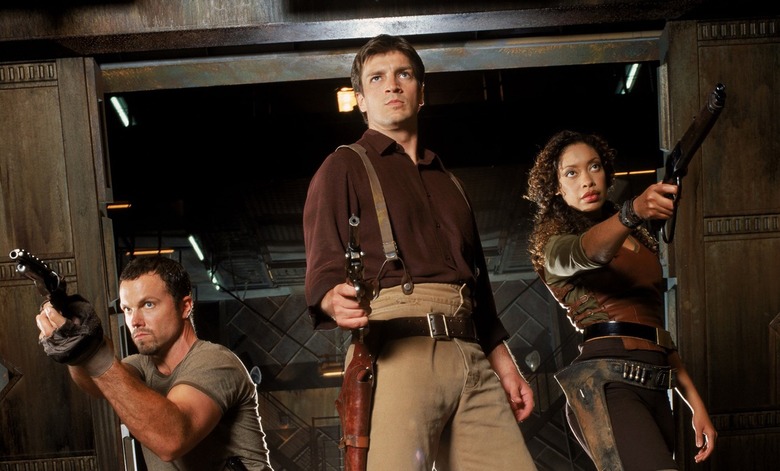 Joss Whedon's Serenity finally gets a sequel, but it's not a movie. Also after the jump:
Atlas Shrugged: Part III turns to Kickstarter
Independence Day might not become a trilogy
Top Gun 2 is still happening, says Jerry Bruckheimer
Goon 2 could shoot next year, with some luck
Weep over this sad moment from Fast & Furious 7
Meanwhile, Vin Diesel has a video message for fans
The Kickstarter page explains that while the production itself is fully funded, the producers felt that turning to Kickstarter would be a good marketing strategy. Not only will it get fans excited, it'll get haters upset. "As we launch the Kickstarter campaign, those haters are going to come ALIVE. They're going to come after us in droves attacking us everywhere online," they predicted. "To them, we say thank you."
To donate, or to find out how they justify asking for charity, head to the official Kickstarter page. [THR]
Fox is currently planning to turn Independence Day into a trilogy, but director Roland Emmerich admits that the third film may not happen if the second sinks. Rather than shoot the two films back-to-back, "we'll only do the first part, because we want to have the audience decide if they want to see the second, otherwise it feels arrogant," he said. "But I'm pretty confident, with the right script..."
Emmerich explained that the script, by Dean Devlin and James Vanderbilt, is set in "a parallel history." "Humans rebuild whatever they have — bigger, newer, shinier – and then they forget. Maybe, 20 years later, [the aliens are] never coming back..." he teased. [Empire]
Jerry Bruckheimer still hasn't given up hope of making a Top Gun 2. "Gosh, I hope so," he said when asked whether the project could still come to fruition. "What was the original, more than 25 years ago? I'm still trying to get it off the ground."Top Gun 2 was put on hold last year following director Tony Scott's passing, but it's still moving forward bit by bit. "We're still working on the script," he said. [LAT]
It's been some time since we heard about the sequel to Goon, the surprise hit hockey comedy that hit last year, but co-star/co-writer Jay Baruchel assures fans that the project's coming along. "We're literally in the process of writing it now. We'll be done inside of the next week and a half or so," he offered.
While he acknowledges that there are "a lot of moving parts," he suggested that shooting could get underway sooner rather than later. "Everyone wants to make it," he said. "Best case scenario... God willing, if everything goes according to plan, it'll be filming around this time next year."
Baruchel further revealed that he envisions a Goon trilogy:
If the first one's about finding what is that you're meant to do, finding your place, finding that niche you fill, the second one is the inevitable, okay, what if what you're meant to do is kind of taxing you and hurting you and is problematic?
Number two is going to be the darkest piece. It's more of an epic, too. It's a pretty broad, sweeping movie... All of our characters deal with the onset of age, without getting too much into it.
[Collider]
Good news, Joss Whedon fans: Serenity is finally getting a sequel. The catch: It's not a movie. Dark Horse Comics has announced that it will launch a new Serenity comic book, which will take place after the events of the film. Georges Jeanty (Buffy the Vampire Slayer) will provide the art. Here's a description of the plot:
As the series begins, Mal and the crew are recouping from their recent strike against the sinister interplanetary government, The Alliance, in which they exposed government agencies as those responsible for the creation of the Reavers — the scourge of the universe. With River Tam in the co-pilot chair and a very pregnant Zoe reeling from the death of her husband, Wash, Mal is finding himself and his ship in greater danger than ever.
No writer or launch date has been announced, but look for more info to hit at New York Comic-Con next month. [Comic Book Resources]
The Fast & Furious movies are mostly pretty lighthearted, but a new still posted by Vin Diesel shows the gang in a rather sad moment. Judging by the black suits, I'm guessing they're at the funeral of a certain someone who bit the dust at the very end of Fast & Furious 6.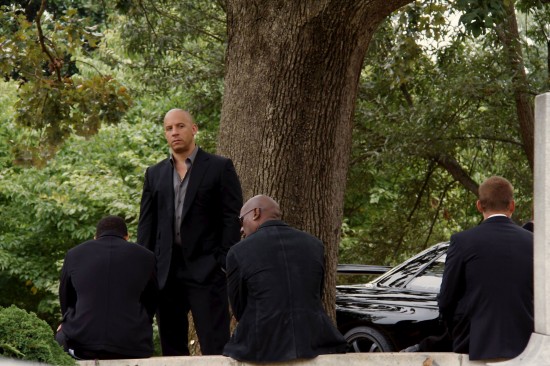 Diesel captioned the picture as follows:
The first week of filming, has been both intense and surreal...
P.s. One from set... a more somber moment in Our Saga...
Fortunately, the mood seems much more cheerful behind the scenes. Diesel uploaded a brief video message to his fans from the first day of production.
Fast & Furious 7 opens July 11, 2014. [Vin Diesel's Facebook, JoBlo]