Cool Stuff: 'The Goonies' 30th Anniversary Lego Cuusoo Set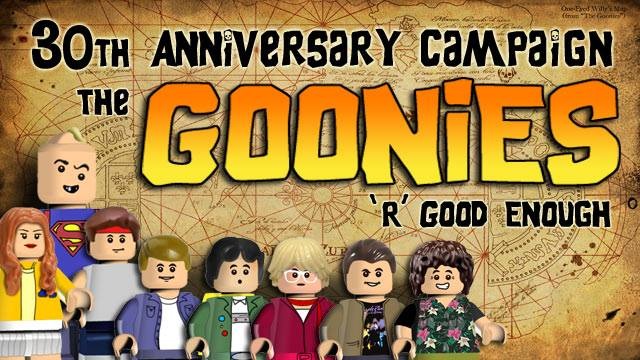 Lego sets, especially Lego Cuusoo sets, take a long time to get approved. That's why, in 2013, one builder has begun to drum up support for a 30th anniversary set themed around the cult-classic 1985 film The Goonies. The set is made up of two distinct scenes from the film that combine to form big construct. And, of course, includes Lego Mini-Figs of all your favorite characters: Sloth, Mikey, Data, Mouth, Brand and many more. Check out the images, and show your support, below.
The full site for the 30th anniversary Goonies Lego Cuusoo set is here. Thanks to The Fire Wire for the heads up. Here are images of the figs, the two sets and the combined result.
You can see more images of the set on its official Facebook page. And don't forget to vote on the Cuusoo page. Once it hits 10,000, Lego will have to evaluate it.
The Brick Show even did a video on this set.
The difficult thing with these pop culture Lego sets is generally the rights issue. For example, a few weeks back we posted a very cool Jurassic Park set but, Lego couldn't get the rights, so the set was not approved. There is a lot of Goonies merch out there so someone is profiting off the film. Hopefully, Lego can get in touch. What do you think of these sets?