'Breaking Bad' Episode "Ozymandias" Gets Perfect 10/10 Rating On IMDb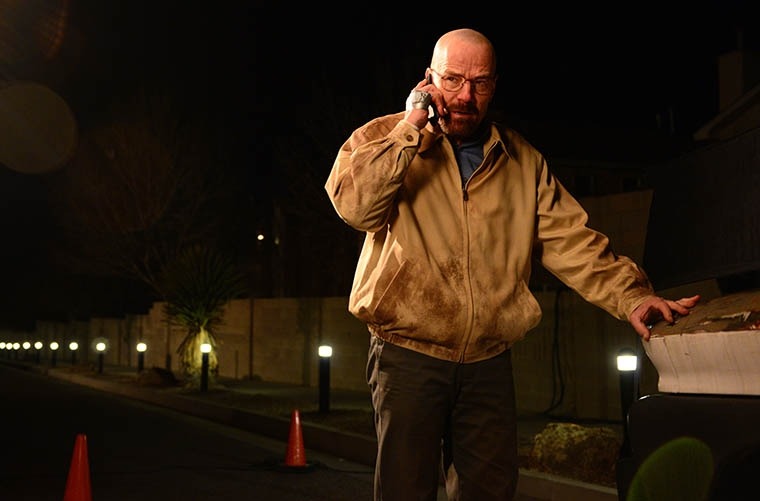 There are still two episodes left of AMC's Breaking Bad, but on Sunday night, "Ozymandias" brought some of the show's major driving conflicts to a head. The result was one of the most incredible hours of television in recent memory — or possibly even, if IMDb users are to be trusted, in all of small-screen history.
Yes, in addition to setting the series record for the most-watched episode of all time, "Ozymandias" has also become the highest-rated episode of any TV show ever on the movie and film database, with a perfect 10/10 score. At least for now. More talk about "Ozymandias" as a series high after the jump.
And it seems those millions of folks liked what they saw. Over 20,000 users have voted on "Ozymandias" at IMDb, collectively awarding it ten points out of ten. That likely makes it the single best-reviewed episode of television on the entire website. Even this year's second buzziest hour, Game of Thrones' "The Rains of Castamere" "only" managed to pull in a 9.8 with 14,000+ votes counted.
Granted, as TVOvermind points out, that 10/10 represents a tiny bit of rounding up. At time of writing, 870 people had given "Ozymandias" something other than a perfect score, including 250 naysayers who gave it just 1 point. However, they were evidently no match for the 20,500+ people who thought "Ozymandias" deserved the top rating.
Breaking Bad as a whole is very well loved on the site. The entire series has a rating of 9.4/10, the same as Game of Thrones and The Wire. The only TV shows that rank higher are Planet Earth and Cosmos, both documentaries. Professional critics, too, are deeply enamored with the drama. Season 2-4 each have a 100% Fresh score on Rotten Tomatoes' new TV Tomatometer. (Season 1 was the low point with a 79%, which is still pretty great.)
All of which means that the expectations for the last two episodes of the show, next Sunday's "Granite State" and the finale "Felina," are hovering somewhere in the stratosphere. But the show's given us no reason so far to doubt that it'll come to a pitch-perfect end. If it turns out that Breaking Bad never gets better than "Ozymandias," well, I think I can live with that. Click here to listen to our commentary track with director Rian Johnson.