'Paradise Now' Director To Remake 'Sympathy For Mr. Vengeance'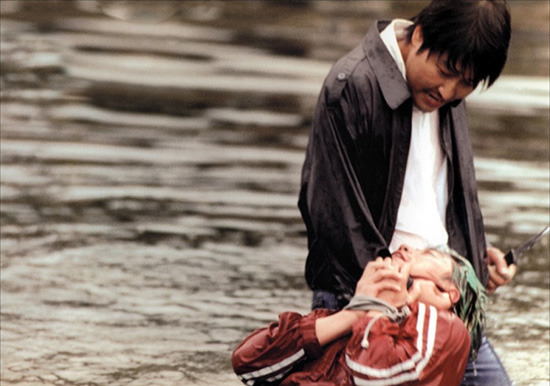 Hany Abu-Assad, whose 2006 film Paradise Now was nominated for a Best Foreign Film Oscar, and who just won the Jury Prize at Cannes this year for his new effort, Omar, will be the latest to attempt a remake of Park Chan-Wook's first "vengeance" film, Sympathy for Mr. Vengeance.
The remake rights have been in the hands of a few companies over the past decade. Earlier this year a partnership between Silver Reel, Lotus Entertainment, di Bonaventura Pictures and CJ Entertainment set a new effort in motion, and it seems like the Brian Tucker (Broken City) script, commissioned by Warner Bros. in 2010, may still be in play. With a director on board, the next steps include casting, and actually getting the money together to make it happen.
TheWrap reports on the new development. We don't have much further info. The script does reportedly take some effort to "Americanize" the story, which was originally about a deaf-mute factory worker who goes to extreme lengths to help his sister attain a kidney transplant, and who is drawn into a complex web of crime and revenge plots as a result.
At this point, all three of the films in Park's loose "vengeance trilogy" have been remade or set for remakes. The middle chapter, Oldboy, will be first to hit theaters, from director Spike Lee. (See the trailer here.) This one and Sympathy for Lady Vengeance are jockying to be second and third. Lady Vengeance has long had Charlize Theron attached to produce and possibly star.