Vin Diesel Originally Met With Marvel About A "Fresh IP"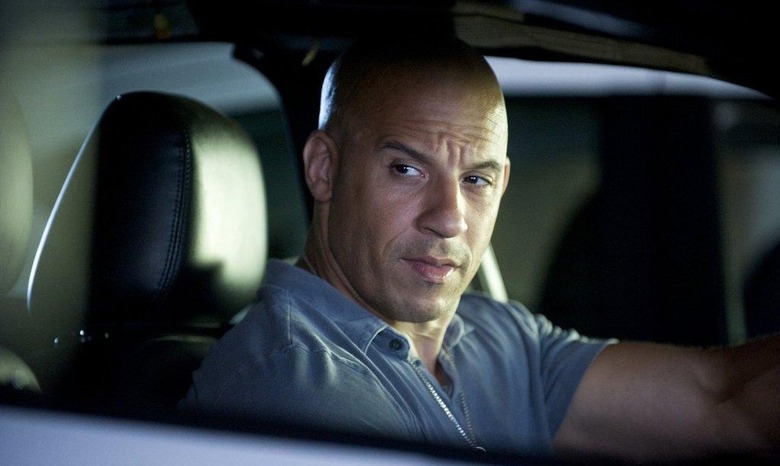 This summer, Vin Diesel had a great time talking up meetings he had with Marvel. That led to a great deal of speculation about what he could be doing with the company, with the biggest ideas being that he would play Thanos in Guardians of the Galaxy and future projects, or perhaps (this was a longshot) play the Vision in Avengers: Age of Ultron. Some thought he might voice Rocket Raccoon, a job which has gone to Bradley Cooper.
Instead, Diesel is in talks to voice the ambulatory tree-creature Groot in Guardians.
But that wasn't what he originally went to the company about. No, the actor says he met with Marvel about a "new IP," with the idea that it might have launched Marvel's third phase a couple years from now.
In an interview with THR, the actor/producer didn't say much about Groot, though he did suggest he's going to provide the motion-capture work for the character. But he explained his first talks with Marvel were about something else altogether.
What we were initially talking about was a fresh IP [intellectual property], and that was the focus of our conversation — a fresh IP that would come out in 2016 or 2017 and potentially launch the third phase.
Schedules being what they are, that couldn't happen, but something more immediate and not hugely demanding, time-wise, could. And so we've got Diesel as Groot, so long as his reps "allow that to happen."
The obvious follow-up questions, to which we don't have answers, are 1) does "fresh IP" mean an original project, or just something of Marvel's that wasn't set yet? Luke Cage, perhaps? And 2) could that still happen down the line?
Here's the video interview:
James Gunn's Guardians of the Galaxy also features Chris Pratt as Star Lord, Zoe Saldana as Gamora, Dave Bautista as Drax, as well as Peter Serafinowicz, John C. Reilly, and Glenn Close. It his theaters August 1, 2014.