POTD: Jennifer Hudson As Tiana From Disney's 'The Princess And The Frog'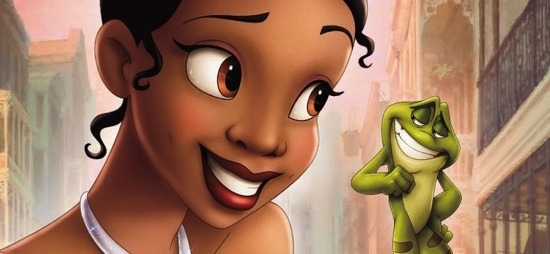 Even before Tim Burton's Alice in Wonderland kicked off the current live-action fairy tale craze, Disney was casting big-name stars to portray beautiful princesses and handsome princes on a regular basis. They just weren't for the movies.
The studio has revealed the latest in their gorgeous Disney Dream Portrait series, shot by famed photographer Annie Leibovitz. Earlier this year, we got Taylor Swift (who's basically a real-life Disney princess already, but whatever) as Rapunzel. Now we have Jennifer Hudson in the role of Tiana from The Princess and the Frog. Check it out after the jump.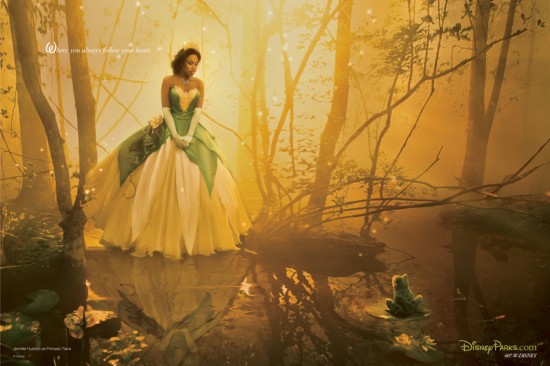 [via Disney]
The frog, as far as I can tell, is just being played by a frog. (Or even more likely, a frog prop.) Seems like a wasted opportunity. I'm sure some hot young actor would've leapt (ha, ha) at the chance to portray the dashing Prince Naveen.
Hudson's The Princess and the Frog pic is the 21st in the Disney Dream Portrait series, which launched in 2007 as an ad campaign for Disney Parks. Flip through some of the past entries below:
These pictures have nothing to do with Disney's upcoming movie slate, which includes live-action retellings of Cinderella and Sleeping Beauty. You'll notice that none of the actors in these dreamy images landed the corresponding role in the movie. (Nor have they shown much interest in trying to, as far as we know.)
But it's fun to consider the possibility of Hudson as Tiana anyway. Coincidentally, Tiana was voiced in the animated film by Anika Noni Rose, who co-starred with Hudson in Dreamgirls.