James Cameron Says All Future Entertainment Will Be 3D; Hires Writer For 'Avatar' Novels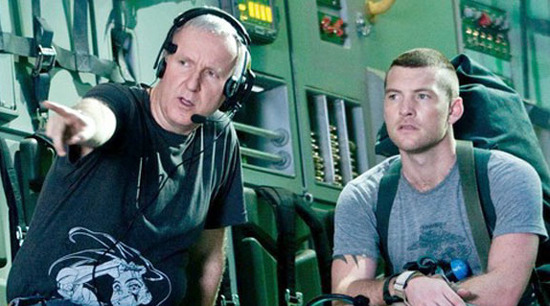 James Cameron is sending mixed messages today. First up, the award-winning filmmakers says he fully expects all future entertainment to be in 3D. Then, a few hours later, he reveals he's hired noted sci-fi writer Steven Charles Gould to write four standalone Avatar novels that'll expand on the stories Cameron will tell in his three sequels, currently scheduled for 2016, 2017 and 2018.
Last time I checked, novels were a form of entertainment and can't be turned into 3D. We'll explore both pieces of news below.
Cameron's quote on 3D came from a BBC interview (via The Playlist). Here's what he said.
For me it's absolutely inevitable that entertainment will be 3D, it'll all be 3D eventually, because that's how we see the world. When it's correct and convenient for us, we pre-select for that as the premium experience.
Cameron has long been a major proponent of 3D, having released Avatar in the format and converted Titanic as well. What he fails to mention here (but has acknowledged in the past) is that 3D is so overused these days it is no longer something fans seek out. Most of this summer's movies faired better in 2D than 3D. Plus, if all entertainment becomes 3D, then it should not command a premium charge. Finally, just because we live life in 3D doesn't mean we want all entertainment to be like that. Isn't it nice to unplug from reality for a while?
Anyway, hot off that declaration Cameron made a commitment to a decidedly 2D entertainment: the printed word. He's hired Steven Charles Gould (whose awesome novel Jumper was butchered as a movie) to write four Avatar novels that'll be based on, but not direct adaptations of, the eventual four movie series. Here's the press release.
Filmmaker James Cameron has tapped noted science fiction author Steven Charles Gould (Jumper) to write four stand-alone novels based upon – and expanding — Cameron's history-making 2009 filmAvatar, and Cameron's stories for his three upcoming Avatar sequels.
Cameron commented, "Steven Gould is one of the shining lights in contemporary science fiction, and I've long admired the worlds and characters he's created in his books and stories.  We're very fortunate to have Steven bring his formidable talents to the Avatar universe.  He is already working closely with me and the screenwriters to flesh out the expanding world ofAvatar."
While Gould is best known for his 1992 novel Jumper, which Twentieth Century Fox and New Regency turned into a motion picture in 2008, he has been acclaimed for his short fiction, including his Hugo Award-nominated short story "Rory," and the novelette "Peaches for Mad Molly."  The latter was also on the shortlist for the Nebula Award. His other novels includeWildside, the Jumper sequel Reflex, 7th Sigma, and Impulse.   He is president of the Science Fiction Writers of America.
Kathy Franklin, Lightstorm Entertainment's President of Franchise Development, noted, "The novels are just one example of our commitment to our fans to extend the world of Avatar, in this instance in partnership with Twentieth Century Fox Consumer Products."
Cameron also is currently writing the screenplays for the three new Avatar pictures, along with screenwriters Josh Friedman (War of the Worlds), Rick Jaffa & Amanda Silver (Rise of the Planets of the Apes) and Shane Salerno (Savages, Salinger).
The sequels will be filmed back-to-back with production beginning next year.  The release of the first sequel will be in December 2016, with the second to follow in December 2017, and the third a year later.
I think Russ put it best.
Do you think Cameron is right about the 3D? And if so, does his commitment to print fall in direct opposition of that?