'The Book Thief' Trailer: Stealing Books And Warming Hearts In Nazi Germany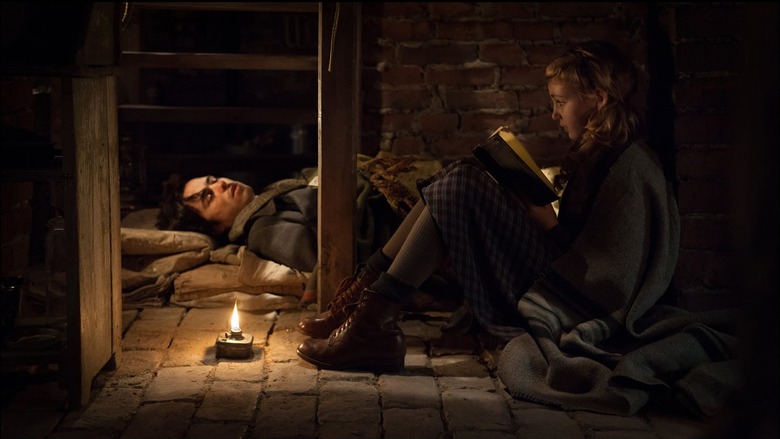 Around this point in the year, it becomes possible to see, in broad strokes, how the upcoming awards season might shape up. The studios have set their release calendars, the most promising titles have hit the festival circuit or are just about to, and several buzzed-about flicks have already put out full-length trailers for general consumption.
But even so, there are always a few pics that seemingly come out of nowhere to join the fray. This year's dark horse could be The Book Thief, directed by Brian Percival (Downton Abbey) and starring Sophie Nélisse, Geoffrey Rush, and Emily Watson. While we haven't heard much about it up to this point, it seems to have all the hallmarks of an awards-season favorite.
Based on a New York Times bestseller (check), The Book Thief follows the uplifting tale (check) of a young girl and her foster parents in Nazi Germany (double check). The only way this could sound more Oscar-friendly would be if her big obsession was movies (a la Hugo) instead of books. Watch the first trailer after the jump.

Markus Zusak's novel has attracted a lot of praise, as the trailer is happy to point out, and the premise is an intriguing one. It's too bad, then, that the first trailer buries this potentially fascinating story under a thick layer of treacle and some heavy-handed narration. The dialogue also seems terribly on the nose. Lines like "I never understood the meaning of hope" seem like the very epitome of telling when one should be showing.
But I'll admit that I'm a bit of a crank when it comes to inspirational tales. Moreover, while the trailer is clumsy, there's still enough good stuff here to suggest that the movie itself may be more elegant and effective. The Book Thief opens November 15.