Rumor: 'Star Wars Episode VII' To Be Released In December 2015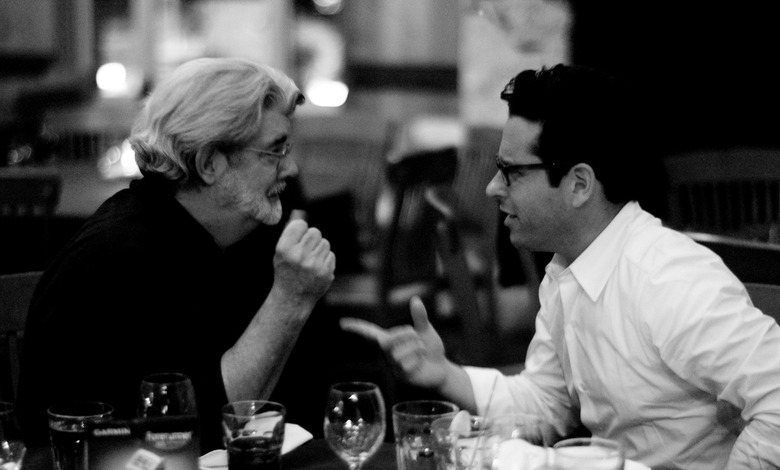 Cinderella, Avengers: Age of Ultron, Inside Out, Pirates of the Caribbean 5, Ant-Man and Finding Dory. Those are the six (?!) movies the Walt Disney Company has currently has scheduled with firm release dates in the year 2015. The one glaring omission is by far the biggest: J.J. Abrams' Star Wars Episode VII. Disney CEO Alan Horn was quoted just last week saying the film would be released in the Summer of 2015, and every single Star Wars movie has been released in May of their respective years. So a May berth always seemed like the best bet.
But with six other movies already dated for that year, why hasn't Disney announced a release date for Star Wars Episode VII? The latest rumor is because they're considering releasing it in December. Below, we'll discuss the pluses and minuses of that rumor.
The rumor originated over on Badass Digest who quote "multiple sources" saying Disney has yet to make a firm decision, but they "have December circled on their calendars, with a mid-month release – the 15th – being most likely."
You'd think a quote from the CEO of the company is gospel, but Abrams hasn't always hit his original release dates. (Both Star Trek films were moved several months later from initial dates, for example.) Plus, this would give him more time to work on the movie, whether for editing and visual effects at the end, or in pre-production and casting now.
Casting Episode VII is crucial because, one would assume, you aren't just casting for this film. You're casting for at least two more after that, plus merchandising and theme parks. This is the face of your brand for the next decade-plus.
Also, a December release date would move Episode VII out of what's shaping up to be the most crowded, blockbuster summer of all time. Not that the film wouldn't easily be the highest grossing movie even with incredible competition, but December would also mean it could play well into January and February. That strategy lead Titanic and Avatar to each being the highest grossing films of all time, a goal that's likely on the minds of Disney executives. The summer release, while more traditional, wouldn't let them to stay on as many screens for as long.
Hopefully Disney give us some Star Wars news soon but, if it really has been moved to December 2015, that news can wait a few more months.