Watch: Tywin And Pycelle Go Fishing In 'Game Of Thrones' Deleted Scene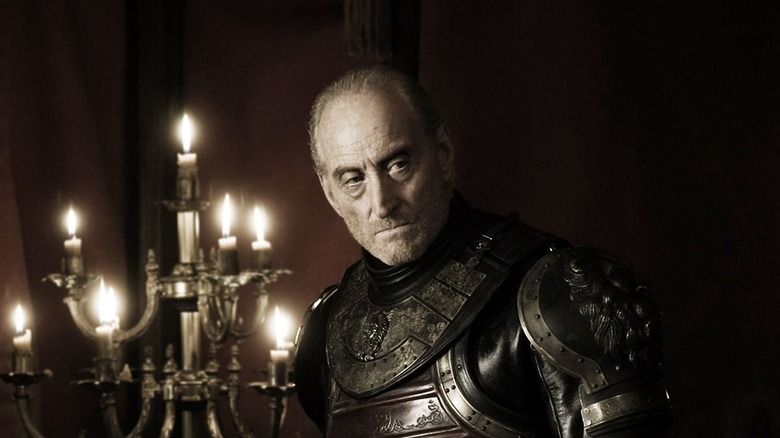 Game of Thrones isn't due to return for another seven or eight months, which means at this point we have to take our glimpses of Westeros where we can get 'em. Today, our little slice of the Seven Kingdoms comes courtesy of HBO itself, which has just posted a fun deleted scene from Season 3.
In it, Tywin Lannister (Charles Dance) is enjoying a bit of fishing when Pycelle (Julian Glover) approaches him with a request. Watch the clip after the jump.
A bit of context: Fans will recall that in Season 2, Pycelle betrayed Tyrion Lannister, who was acting hand of the king. He was subsequently removed from his post as Grand Maester and imprisoned in the black cells.
With Tywin back in King's Landing, however, Pycelle is eager to beg for his old job back. Though the doddering old man doesn't look like much, it turns out he's got a few tricks up those giant sleeves of his, the whole "doddering old man" persona being one of them.
As always, it's a total pleasure to watch Tywin just rip into someone. No wonder the Lannisters basically run the Seven Kingdoms. I bet their enemies lose on purpose, just because watching Tywin win at things is so damn fun. Heck, that fish probably let itself get caught so it could see how this verbal battle between Tywin and Pycelle goes down.
Those who attended San Diego Comic-Con this year may recognize this clip as being the same one HBO played during the show's Hall H panel. It'll also be available as a bonus feature on the Game of Thrones Season 3 DVD/Blu-ray set, which hits shelves February 18, 2014. Game of Thrones' fourth season, which adapts the second half of A Storm of Swords, is expected to kick off in spring 2014.