Logos Revealed: Maleficent, Tomorrowland, Into The Woods, Cinderella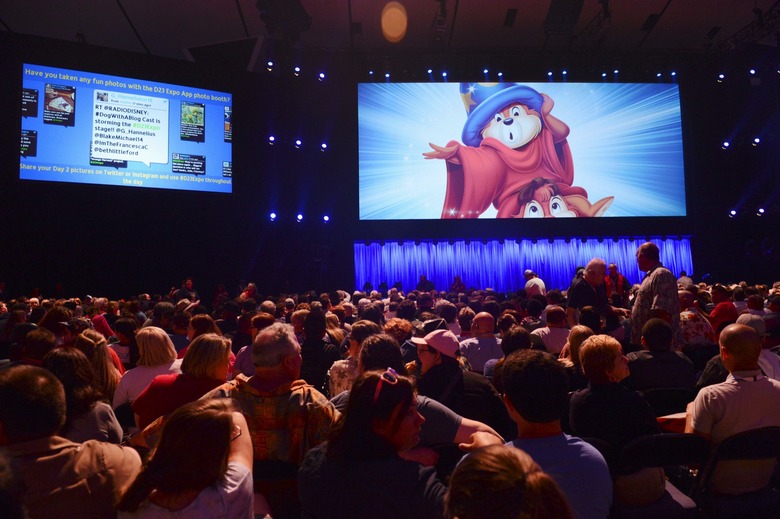 At Saturday's live-action film presentation at D23 Expo, Walt Disney Pictures revealed the official logos for a handful of their upcoming films: Maleficent, Muppets Most Wanted, Into The Woods, Cinderella, Tomorrowland AND MORE. Check them out now after the jump.
Official Info:
"Into the Woods," based on the Tony®-winning original musical by James Lapine and Stephen Sondheim, surrounds a baker and his wife's quest to break a witch's curse in order to start a family. Along the way, they encounter several well-known fairy tale characters and together they learn what happens after "happily ever after."
The film is slated for a December 2014 holiday release.
· Sean Bailey thrilled the D23 audience with an exclusive, very early, sneak peek at the vision of Disney's "Cinderella," courtesy of director Sir Kenneth Branagh. Though many of the elements are still in development and pre-production, like Cinderella's gown, the audience enjoyed getting a taste of what they could expect when Disney's live-action version of the classic fairy tale opens in theaters on March 13, 2015. Although Disney's magical and amazing "Cinderella" promises to be faithful to the original fairy tale, the filmmakers will elevate the story, the characters and the visuals to take audiences on a sweeping dramatic journey never seen before.
"Maleficent" is the untold story of Disney's most iconic villain from the 1959 classic "Sleeping Beauty." A beautiful, pure-hearted young woman, Maleficent has an idyllic life growing up in a peaceable forest kingdom, until one day when an invading army threatens the harmony of the land. Maleficent rises to be the land's fiercest protector, but she ultimately suffers a ruthless betrayal—an act that begins to turn her pure heart to stone. Bent on revenge, Maleficent faces an epic battle with the invading king's successor and, as a result, places a curse upon his newborn infant Aurora. As the child grows, Maleficent realizes that Aurora holds the key to peace in the kingdom—and perhaps to Maleficent's true happiness as well. The film also stars Sharlto Copley, Elle Fanning, Sam Riley, Imelda Staunton, Miranda Richardson, Juno Temple and Lesley Manville and is produced by Joe Roth and directed by Robert Stromberg. Linda Woolverton, the screenwriter of "Alice in Wonderland," "The Lion King" and "Beauty and the Beast," wrote the screenplay. "Maleficent" opens in theaters on July 2, 2014.
Tomorrowland: Starring George Clooney, Hugh Laurie, Britt Robertson, Raffey Cassidy and Thomas Robinson, the action-packed adventure hits theaters December 12, 2014.