'Toy Story Of Terror' TV Special Sets Date; First 10 Minutes Screened At D23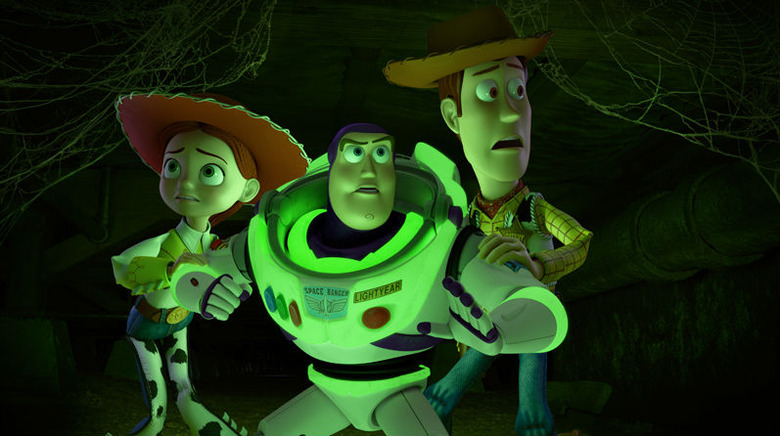 Pixar's second release of 2013 is coming soon to a TV near you. Disney announced today that the 30-minute special Toy Story of Terror will premiere just in time for Halloween, appropriately enough on ABC.
As for what we can expect from the Angus MacLane-directed project, the studio has shown the first ten minutes at this weekend's D23. Hit the jump to get a recap of the footage, as well as plot details and more.
Much of the movies' cast will return, including Tom Hanks, Tim Allen, Joan Cusack, Timothy Dalton, Don Rickles, Wallace Shawn, and Kristen Schaal. They'll be joined by a handful of newcomers including Carl Weathers, who voices Combat Carl and Combat Carl Jr., and Stephen Tobolowsky, who voices a hotel clerk.
The special opens with black-and-white footage of humans running from Dracula in a graveyard. The scene turns out to be part of a movie that Rex (Shawn) and the other toys are watching in the back of a car, from their perch inside the trunk. A flat tire bumps Jessie (Cusack) into the tool chest, and the entire family pulls over into a roadside motel.
Later in the evening, the toys head out, splitting into smaller groups. Mr. Potato Head (Rickles) vanishes. As Woody (Hanks), Buzz (Allen), and Jessie are investigating, Rex pushes them down a vent. A while later something grabs Woody and Buzz; it turns out to be Mr. Potato Head's arm.
The characters (including Mr. Potato Head's arm) wind up in a bathroom and then get taken too. Combat Carl shows up to warn Jessie that he's seen things, horrible things, and that they'd better run back now. There's a noise, and Combat Carl disappears, leaving Jessie alone in the bathtub.
If the scenes sound like typical horror movie stuff, that's the intention. Pixar nods to genre by having Mr. Pricklepants (Dalton), the resident drama expert, commenting on classic horror tropes throughout, and there are self-referential gags sprinkled throughout.
The D23 footage left off there, but we'll find out more about the characters' fates in a couple more months. Toy Story of Terror airs October 16 at 8:00 PM on ABC.