'The Counselor' Trailer: Michael Fassbender Is In Way Over His Head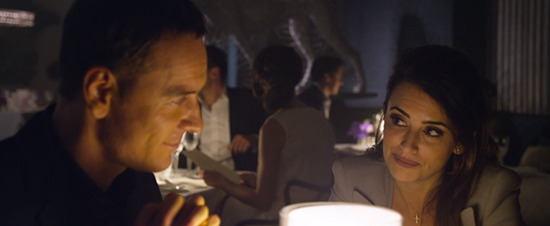 Here's the new trailer for Ridley Scott's The Counselor, and all you may need to know is that the film is scripted by No Country for Old Men author Cormac McCarthy, with Michael Fassbender in the title role and supporting turns from Javier Bardem, Brad Pitt, and Penelope Cruz.
This new trailer sets out more story than previous views of the movie, and makes the characters played by Bardem and Cameron Diaz look even more strange and seductive. Just how bad will things get for Fassbender's character as he makes an ill-advised foray into the drug business? The trailer below doesn't say, but it will give you some ominous hints.
The Counselor also features Cameron Diaz, Dean Norris, Rosie Perez, John Leguizamo, Natalie Dormer, and Goran Visnjic. It opens October 25.
Ridley Scott and author Cormac McCarthy join forces in the motion picture thriller THE COUNSELOR, starring Michael Fassbender, Penélope Cruz, Cameron Diaz, Javier Bardem, and Brad Pitt. McCarthy, making his screenwriting debut and Scott interweave the author's characteristic wit and dark humor with a nightmarish scenario, in which a respected lawyer's one-time dalliance with an illegal business deal spirals out of control.