Watch Michael Fassbender In Two Clips From Ridley Scott's 'The Counselor'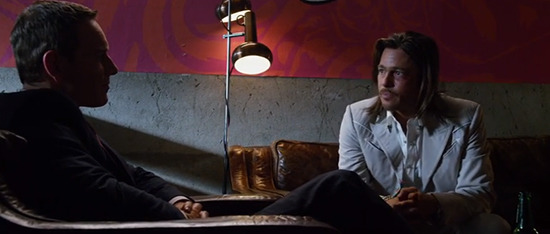 I try not to watch a lot of clips, but the idea of Michael Fassbender, Javier Bardem and Brad Pitt in a film scripted by Cormac McCarthy (The Road and No Country for Old Men) is something I can't say no to. The Counselor is the movie — it's the latest from Ridley Scott — and in advance of a new trailer hitting tomorrow we've got two clips that show those actors in a couple scenes. As the first trailer suggests, this looks like dark stuff that gets pretty desperate, as Fassbender plays an attorney who thinks he can just casually become part of the drug trade.
These two clips get across tone and menace more than they do plot, so I think even those who are particularly averse to spoilers can dig in while waiting for the next trailer.
The Counselor, which also features Cameron Diaz, Dean Norris, Rosie Perez, John Leguizamo, Natalie Dormer, and Goran Visnjic, opens October 25.
Ridley Scott and author Cormac McCarthy join forces in the motion picture thriller THE COUNSELOR, starring Michael Fassbender, Penélope Cruz, Cameron Diaz, Javier Bardem, and Brad Pitt. McCarthy, making his screenwriting debut and Scott interweave the author's characteristic wit and dark humor with a nightmarish scenario, in which a respected lawyer's one-time dalliance with an illegal business deal spirals out of control.