'Paradise' Trailer: Julianne Hough Is The Sweetest Little Girl In Las Vegas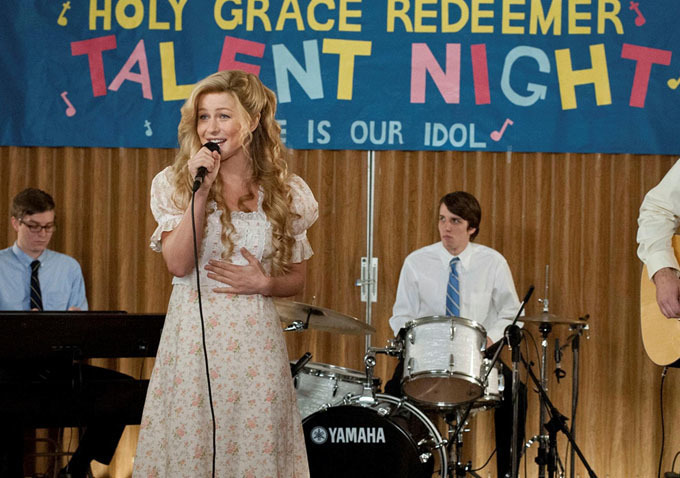 In Paradise, Julianne Hough stars as a young woman who renounces her faith after a plane crash leaves her scarred. She travels to Las Vegas to indulge in all the behaviors that sh has avoided in life, and runs across characters played by Russell Brand, Octavia Spencer and Nick Offerman. The film is written by Diablo Cody (Juno, Young Adult), who also makes her directorial debut.
Some of the weirdest news of last week was that Paradise would debut this week (on Thurs, Aug 8) on DirecTV. The plan has been in the works for a while, says the LA Times, to which Cody said, "I don't know a director who is in on the distribution strategy, or if it's necessarily ever OKd with the filmmaker. But they believe in my movie, and I'm excited to be trying something a little different. I think VOD is a pretty good place for an indie rom-com right now."
So Paradise is an unexpected trailblazer for a certain sort of distribution, and you can bet that if it turns out well for the film and DirecTV we'll see more releases like this in the future. For the time being, you can see the first trailer below.
So Julianne Hough turns out to be a good channel for Cody's voice, and Russell Brand may be the ideal person to spout off the writer's signature bon mots. All things considered, the film looks pretty gentle and sweet, but it could be cute and funny enough to succeed in its ambitions.
Paradise debuts this week on DirecTV ($10.99 for HD rental/ $8.99 for SD rental), and then will hit theaters in October.
After a nearly fatal accident, 21-year-old Lamb Mannerheim (Hough) is beginning to realize that the world is much bigger than her small, God-fearing Montana town. Armed with a big, fat insurance payout and a checklist of untried sins, there's only one place for her first taste of temptation...Las Vegas! And, with the help of a few new friends (Brand and Spencer), Lamb embarks on an oddball odyssey of lost souls, broken faith and cheap cocktails...a true journey of the heart.