Rumor: Warner Bros. Wants Older Batman For 'Batman Vs. Superman'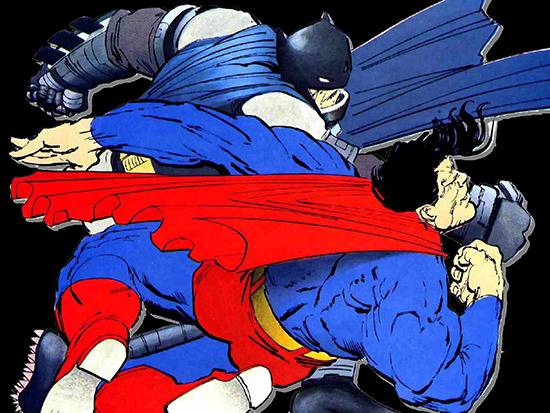 When Zack Snyder and Warner Bros. announced that the follow-up to Man of Steel would feature a conflict between Batman and Superman, many questions were raised. The title is one; we're using Batman vs Superman for the time being, but the final title could be different. The precise story is another question, especially since Snyder used a line from Frank Miller's The Dark Knight Returns to introduce the concept to an audience at Comic C0n. While we know that the film won't be a direct adaptation of Miller's series, that planted a seed of expectation in fans.
The other big question is: who will play Batman? Warner Bros. needs a new actor, as Christian Bale's time in the cowl expired with the end of Christopher Nolan's directorial run. Armie Hammer, once cast as Batman in a Justice League film that never happened, has been once name people are asking about. He says he doesn't want to do it. Armie's interest or lack thereof might not even matter, as the new rumor is that Warner Bros. is willing to cast an older actor in the role — fueling more speculation that The Dark Knight Returns will be more of an influence than Snyder suggested at first.
First up, it's important to keep in mind that we're still in wild speculation mode, as David Goyer is reportedly still working on the film's script.
But talk at Batman on Film says that WB is looking at an actor in his mid-40s for a version of Batman who would be "a grizzled veteran who has been on the job for several years." Names being thrown around — unofficially — include Jon Hamm, Gerard Butler, and Josh Brolin. The last seems like a great notion; I'd watch Brolin as Batman in a second.
Meanwhile, people are still asking Armie Hammer about playing Batman. The actor was cast in the role by George Miller when Miller was prepping his Justice League film a few years back. Hammer was an unknown at the time, but the film was called off, and he developed his own career through films like The Social Network and J. Edgar. Hammer told us that he wasn't interested in playing Batman now, but the question continues to come his way.
Hammer is still on the Lone Ranger press trail, and after a recent question about playing Batman he told Metro "I'm not actually a big fan of superhero films. If you have a guy who is supposed to be invulnerable, then what's the point?" (Never mind that his Lone Ranger character may or may not be invulnerable, depending on whether or not you believe Tonto.)
With regards to appearing in Batman Vs. Superman, he demurred based on the fact that he and Henry Cavill are about to do The Man From UNCLE, saying "I think if Henry and I did that film and then a superhero film straight after, people might start to wonder about us..."