'Curse Of Chucky' Red-Band Trailer: Wanna Play?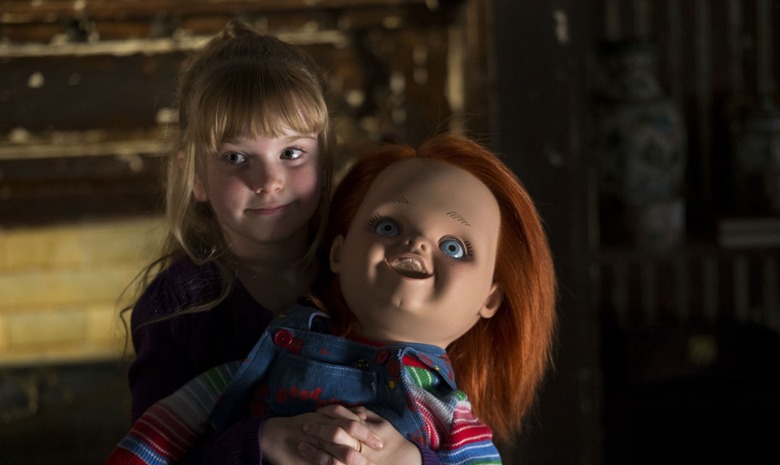 The original Child's Play in 1988 sent a whole generation of kids running away screaming from their My Buddy dolls. But the series has taken a turn for the comedic in more recent years, with 1998's Bride of Chucky and 2004's Seed of Chucky. Now the franchise is returning to its scary roots with the first installment in nearly a decade, Curse of Chucky.
Brad Dourif returns once again to voice the plaything from hell, who mysteriously shows up at the home of a woman named Nica (played by Dourif's daughter Fiona Dourif). Her visiting niece quickly takes to the doll, but as the body count starts to rise Nica comes to suspect that the innocent-looking toy may have something to do with all the bloodshed. Watch the new red-band trailer after the jump.
As red-band trailers go, this one isn't all that shocking. It cuts away before we see any serious bloodshed or violence. Still, it's definitely creepier than that last green-band trailer was.
Chucky fans may notice that the pint-sized psychopath is back to his clean original look, rather than the stitched-up face he showed in the last two movies. Moviehole reported previously that Curse of Chucky will "skip over" the two most recent installments, picking up after Child's Play 3. That all seems to be part of the effort to reestablish Child's Play as a horror franchise, rather than a horror-comedy one.
Curse of Chucky hits VOD September 24, and DVD/Blu-ray on October 8.
He's back! From the filmmakers that brought you Chucky comes the terrifying return of the pint-sized doll possessed by the spirit of a notorious serial killer. When a mysterious package arrives at the house of Nica (Fiona Dourif, "True Blood"), she doesn't give it much thought. However, after her mother's mysterious death, Nica begins to suspect that the talking, red-haired doll her visiting niece has been playing with may be the key to the ensuing bloodshed and chaos. The return of America's favorite toy, voiced again by Brad Dourif, is unrated and full of more blood-splattered thrills and chills.