'Knights Of Badassdom' Gets U.S. Distribution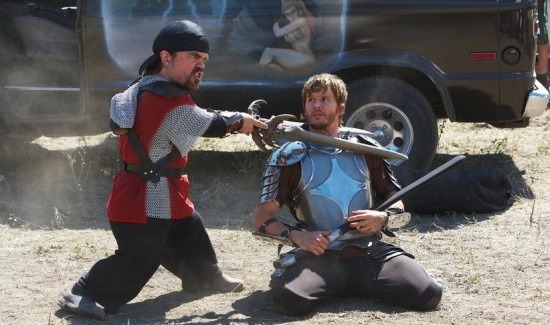 Comic-Con 2013 just ended, which makes it the two year anniversary of when we first heard about Knights of Badassdom. The independent film, starring Ryan Kwatten, Peter Dinklage, Summer Glau, Danny Pudi and Steve Zahn, follows a group of live action role players who are forced to save the world from monsters. It got some great buzz after its Hall H panel at Comic-Con 2011 and director Joe Lynch was amped about getting fans to see the film as soon as possible.
Then the money men got their hands on it and a controversy raged over the distribution rights. Lynch lost control of the film, it was reportedly re-edited and possibly doomed to live on a shelf for all its days.
Today, eOne Entertainment is putting a reincarnation spell on the film. They've just picked it up for U.S. distribution.
According to the news release, eOne is planning a day and day release both theatrically and on VOD, though no specific date has been set. Also of note, the press release clearly lists Joe Lynch as the director, even though there were rumors his name might be taken off the film. So that's obviously a positive.
We've contacted the new distributors looking for more information about which version of the film they'll release, but have yet to hear back. We've also contacted Lynch, but based on his last tweet (#NMC = "not my cut") it seems like even he isn't sure which one is going out:
Till I get a call...#NMC

— Joe Lynch🖕 (@TheJoeLynch) July 25, 2013
Either way, we now know we'll finally get to see Knights of Badassdom in some form. And that's better than not at all.
Here's an old trailer.