Rosamund Pike Is The Lead In David Fincher's 'Gone Girl'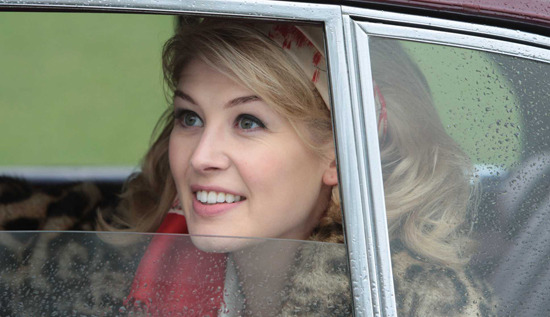 UPDATE: News that Rosamund Pike would get the lead in Fincher's next has now been confirmed. Also, Neil Patrick Harris and Tyler Perry are being eyed for roles. The original article follows.
With Oscar-winner Ben Affleck now set to play the questionable husband in David Fincher's next film, Gone Girl, he's gonna need a wife to go missing. Reese Witherspoon and Charlize Theron had both been mentioned in the past but now it seems The World's End actress Rosamund Pike is the front runner. She'd play the title character, a seemingly perfect wife who mysteriously disappears, leaving her husband as the likely suspect. Fincher is hoping to shoot in the film in September with Affleck likely to push his next film – Live By Night – back a few months.
The Hollywood Reporter broke the news of Pike's probable casting.
Based on the 2012 novel by former Entertainment Weekly editor Gillian Flynn, Gone Girl was a massive hit thanks to its innovative structure and jaw-dropping twists and turns. In fact, it was the best selling book of 2012 not associated with the Fifty Shades of Grey series. Reese Witherspoon's company optioned the book soon after publication, but now will just produce.
Flynn is adapting the screenplay, her first, under Fincher's wing and Affleck will push back his follow-up to Argo, Live By Night, back to accommodate the film. Now the question just becomes who'll play the lead and Pike is the current front-runner. She'd be a great choice: beautiful, talented, and still mostly mysterious to a majority of filmgoers. That's one major thing a A-list actress can't provide and something that's sure to help the audience take the crazy ride Flynn has created.
Have you read Gone Girl? What do you think of this casting?