TV Bits: 'Breaking Bad', 'American Dad', 'Game Of Thrones', 'Boardwalk Empire'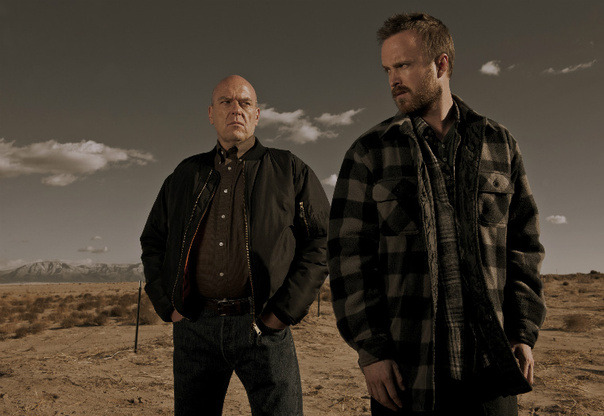 It's a weirdly good time for '90s kids, as Uncle Jesse and Carmen Sandiego plot their returns. After the jump:
Uncle Jesse's band from Full House will reunite
The elusive Carmen Sandiego may return to PBS
American Dad is moving from Fox to TBS
James Franco will drop by The Mindy Project
Damon Wayans Jr. is returning to New Girl
Ray Donovan and True Blood get renewed
Here's who'll direct Game of Thrones next season
Check out a new trailer for Boardwalk Empire
Breaking Bad teasers and stills show lots of glares
Thats right world, Jesse and the Rippers are back! Flashback to our first hit single http://t.co/MoDXLivZ4G

— Jesse Katsopolis (@jesseandtheripp) June 19, 2013
[People]
In other '90s kid news, Where in the World is Carmen Sandiego? may be coming back to PBS. The network hinted as much on Tumblr with a recent post of the criminal mastermind's iconic hat and gloves.
Details on her return remain scarce, but we know for sure that "this is not about new episodes." (At least for now.) The best guess is that PBS plans to re-air old episodes.
[via TheWrap]
Stan Smith and his family are headed to TBS. The cable network has picked up Fox's American Dad to air in late 2014. The Seth MacFarlane-created comedy will finish out its tenth season, which begins September 29, on Fox before making the leap to TBS for Season 11. [THR]
James Franco isn't just a guy with an eclectic career history, he also plays one on TV. Or he will, in the upcoming second season of The Mindy Project. Franco has booked a two-episode arc as fashion model-turned-OB-GYN Paul Leotard, who fills in for Mindy (Mindy Kaling) while she's in Haiti on a volunteer mission. Season 2 kicks off September 17. [TheWrap]
Back in 2011, Damon Wayans Jr. shot the pilot episode of Fox's New Girl before ABC's Happy Endings got a last-minute renewal. Wayans' character Coach was replaced in episode 2 with Winston (Lamorne Morris), and so far hasn't been seen again.
But the recent cancellation of Happy Endings (sadface) leaves Wayans with some free time on his hands, and he's using it to revisit the New Girl set, as star Jake Johnson hinted earlier this summer. Wayans will appear in at least four episodes of Season 3, which premieres September 17. [TV Line]
Showtime threw a lot of weight behind the freshman drama Ray Donovan this summer, even giving it the plum slot after Dexter. Happily, it looks like those efforts have paid off. The fixer drama has been renewed for a second season, just three episodes into the first. Season 1 ends September 22. [EW]
True Blood isn't as buzzy as it once was, but it still attracts plenty of fans. Enough that HBO's eager to keep that party going. The premium cable network has renewed the vampire drama for a seventh season, which will air in summer 2014. Executive producer Brian Buckner will return as showrunner. He replaced series creator Alan Ball in the position before the current sixth season, which ends August 18. [E!]Game of Thrones' fourth season promises to add still more new faces to the already massive cast, but behind the scenes the show is sticking with some old favorites.
The director list for Season 4 has just been revealed, and includes familiar names like Neil Marshall (Season 2's "Blackwater") and Michelle MacLaren ("The Bear and the Maiden Fair"). The only "newcomer," if you can call him that, is showrunner D.B. Weiss, who hasn't had a director credit on the show yet.
Episode 1: David Benioff & D.B. Weiss
Episodes 2, 3, 8, 10: Alex Graves
Episodes 4, 5: Michelle MacLaren
Episodes 6, 7: Alik Sakharov
Episodes 9: Neil Marshall
As with previous seasons, Weiss and Benioff will write most of the episodes. George R.R. Martin will contribute one, and Bryan Cogman will pen two. Season 4, which covers the second half of A Storm of Swords, will air next year. [EW]
Season 4 of Boardwalk Empire promises to be a toe-tapping good time, judging by this trailer.
That's Jeffrey Wright as Dr. Valentin Narcisse, who promises to be the thorn in Nucky's side this season. Boardwalk Empire returns to HBO September 8. [HBO via TheWrap]
No doubt the second half of Breaking Bad's fifth and last season will be crammed with crazy twists and turns. But in the newest batch of promotional stills, the characters aren't doing much other than frowning at one another.
There's slightly more action in these character-centric teasers. Here's "Jesse Hits the Floor":
"Hank Takes the Wheel":
And Walt looking terrified:
What happened to being the one who knocks, dude?
Breaking Bad returns for its final eight-episode stretch on August 11. [HitFix]