'The Conjuring' Already Set Up With Sequel Plans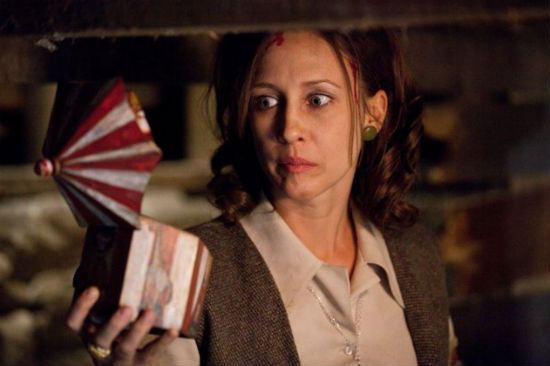 New horror films often seem like a great way to beget a new franchise — there's a rich tradition of horror film series, after all, and any company releasing horror into movie theaters is easily tempted by the sweet smell of franchise money.
And so The Conjuring, which has been the benificiary of rave reviews since debuting at the LA Film Festival and going into many preview and word of mouth screenings, is already looking locked for a sequel and possible franchise. James Wan's film doesn't even open until Friday, so that's a big vote of confidence in the movie.
Indeed, while I seemed to like The Conjuring less than many other viewers, the scares and hauntings within are very well done, and there's rich potential for more stories in a similar mold. That's because the movie is based on a case investigated by Ed and Lorraine Warren (played by Patrick Wilson and Vera Farmiga) who are perhaps best known for going on to chronicle the Amityville Horror.
Variety reports that New Line and Warner Bros. want a sequel, quoting New Line president Toby Emmerich.
This is as good a horror movie as we've ever made.... We think it will have great playability. We have Lorraine's permission and support [for a sequel], and we are working on developing another film.
Carey Hayes and Chad Hayes, who wrote The Conjuring based in part on extensive interviews with Lorraine Warren, would write the sequel.
The Warrens have been the subject of movie interest for years; in addition to this film and The Amityville Horror, A Haunting in Connecticut was based on one of their cases. The couple have many other cases that could be full or partial basis for another film, or more. That's in addition to elements of The Conjuring that aren't really completed in this first movie, so there's no shortage of material on which to base and develop a sequel.